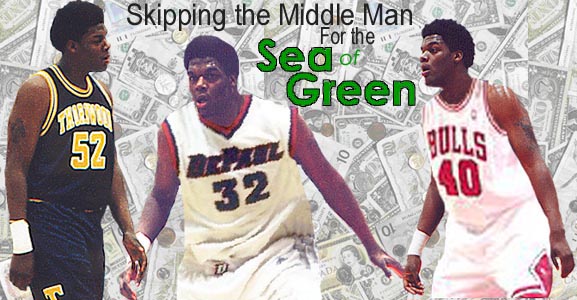 Straight from high school, Thornwood's 6'11" Eddy Curry
will be selected in the NBA Draft on June 27.
Top Stories of the Year

1) Eddy Curry- Man or myth Talked about, then talked about some more. There was never enough said about Thornwood's 6'11" 310-pound Eddy Curry and what his future holds. Deciding not to wait to become a multi-millionaire and passing up a scholarship to DePaul University, where he already had committed, Curry has declared for this June's NBA Draft. His dream of winning a high school championship was cut short when Schaumburg upset his Thunderbirds in the finals of the IHSA Championship, but he will certainly live to fight another day: next time on a much larger stage.
2) Schaumburg & Pickneyville- Underdogs top all It was a surprise to most that these two teams advanced to Peoria for the Elite Eight, but when they went against all odds and were the last ones standing for their respective classes, they gave hope to everyone that was ever doubted. Defeating Class A favorite Westmont in the semifinals, Dick Corn's Pickneyville team upended Pana in the championship to bring the state trophy back to their school of 499 students in Southern Illinois. It was a case of David Vs. Goliath for Schaumburg, when they met Eddy Curry and 6'7" junior Melvin Buckley's Thornwood Thunderbirds in the AA finals. Using a well-balanced attack led by Wisconsin-Milwaukee-bound Mark Pancratz, Schaumburg will forever be known as the giant-killers.
3) Najeeb Echols- The soap opera Is he still at Whitney Young? No, I heard he transferred...again, but isn't he injured? Speculation ran wild throughout the 6'7" Najeeb Echols' senior year, where he was relegated to the sidelines with Morgan Park High School as he recuperated from a slight tear in his knee. Headed to Missouri next year, Najeeb spent his first three years of high school at Whitney Young. Before the basketball season started this year, Najeeb bolted away from Whitney Young, due to speculation about a rocky relationship with head coach, Lamont Bryant. Walking into the office of Leo High School, with intentions on going to the Catholic League powerhouse, Najeeb was told he didn't have the required paperwork to transfer that day. Upon going home, he had another change of plans and ended up at his final high school destination of the south-side high school, Morgan Park. Eventually, ruled ineligible to play his senior year, it didn't matter, as he was injured and physically unable to play even if he had been cleared.
4) Jason Douglas- A tear shed by all Everyone that's ever laced up their kicks and felt that sudden burst of adrenaline that comes when you step between those those black lines, they felt for Jason Douglas when he found out that his days of competitive basketball were done due to being diagnosed with an enlarged heart. Despite his absence, his Dunbar Mightymen advanced all the way to the City semifinals with their season dedicated to Douglas.
5) 'Preps'- Revolutionizing high school coverage With inside footage never seen at the high school level prior to this, the daily television show on Fox Sports, 'Preps,' brought the common viewer inside the life of high school basketball in Chicago. Profiling Julian's Sean Dockery (Junior), Thornwood's Eddy Curry (NBA) and Downers Grove North's Kyle Kleckner (Illinois for football), the show captivated a national audience going beyond the basketball court and into the player's lives. However, this looks to be the end of 'Preps' in Illinois for anytime soon. For next year, the Halo Sports crew will be in Texas to cover high school football, but beyond that, Illinois does no look to be in their foreseeable future. "We would love to come back to Chicago for a follow-up 'Preps' series, but that would be a few years away," said Peter Rudman, Vice President of Halo Sports. "If basketball were to happen again next year, it would be in another location [other then Illinois].


Copyright © 1999-2000
High School Elite, All rights reserved.