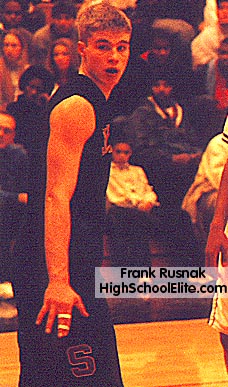 State tournament hero, Mark Pancratz, will be
headed to Wisconsin-Milwaukee next year
News & Notes
After leading his Schaumburg High School team to a Class AA Illinois State title, Mark Pancratz has now committed to the University of Wisconsin-Milwaukee and new head coach Bruce Pearl. With Pancratz close to committing to Eastern Illinois, he opted for Wisconsin-Milwaukee, despite their tardiness in getting involved in his recruiting, which was excused due to Pearl being a rookie with the Panthers. Averaging 18 points, 5 assists and 5 rebounds in leading his Saxons to a 29-3 record that climaxed with a 66-54 upset win over top-ranked Thornwood for the state title.


Canceling a visit to Rider, Rock Fall's 6'8" Bryan Boerjan has finally decided that he will attend Samford University next year. "They play a Princeton-style offense so they are excited about the skills he can bring in," said Thom Sigel, who coached Rock Falls last year, but has recently accepted an offer as the head man at Rock Island High School. "I think this is a good system for him as well. It's an excellent school that has won and made it to the tournament and he got along well with all their players." Averaging 17 points, 8.5 rebounds, while shooting 56-percent from the floor and 48-percent from the 3-point line, Bryan helped Rock Falls finish 21-5 this past season.


A 6'7" defensive work-horse, Peoria Richwood's Marcus Jackson is headed to South Plains Junior College in Levelland, Texas. Helping lead his Knights to a Class AA Elite Eight appearance, Marcus achieved the qualifying ACT score, but was without the necessary work required in the classroom. It is also a possibility that Marcus' former Richwoods teammate, before he transferred last year to Manual, and best friend, Tony Gulley, could join him at South Plains.


Monmouth's all-time leading scorer, Jake Sottos will play ball next season at Southeastern Junior College. A 6'3" combo-guard, Jake averaged 26 points, 9 rebounds, 8 assists and 3 steals per game as a senior. In picking Southeastern, Sottos has selected a winner, as they return this year coming off of their NJCAA national championship in 2000. In three years of varsity at Monmouth, Jake has accumulated more then 2,000 points, 600 rebounds and 500 assists for a stellar career with the Zippers.


Jamal Washington, a 6'5" never-say-die power forward for Westinghouse, will be suiting up for Wabash Junior College in Mt. Carmel, Illinois next season. A relentless worker of the glass, Jamal also possess the ability to handle the ball on the perimeter.
Copyright © 1999-2000
High School Elite, All rights reserved.