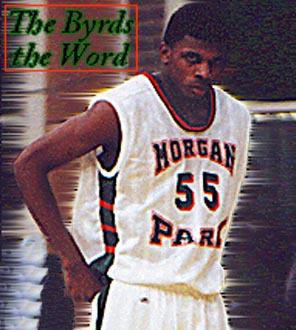 Morgan Park's 6'9" Jonathan Byrd has his list of colleges
narrowed down to seven possible suitors.
Byrd cools off
while colleges sweat his decision
You would think that the number one thing on the mind of Jonathan Byrd, presently the most highly sought after unsigned senior in Illinois, would be on making his decision on a college. Well, you would've thought wrong.
Spraining his ankle last week, Byrd is trying to get the swelling down so that he can get his foot into his size 16 dress shoes for tomorrow's Senior Prom.
Playing in some newly acquired shoes that he was given from the City-Suburban game, Byrd foresaw a problem with the lack of support in the shoes.
---
"You are going to see bigger and better things from him. Whoever gets him is going to love this guy."
Morgan Park Coach
Herb Ray
-on senior Jonathan Byrd
---
"I just knew I should've taped my ankle up before it happened," said Byrd, Morgan Park's starting center. "Right now I'm just trying to keep icing it so that I can fit it into my shoe for prom."
After he enjoys a night of fun and partying, honoring the culmination of a great time at the South Side school of Morgan Park, it will be all business for Byrd.
With the May 15 deadline slowly creeping up on the wiry 6'9" Byrd, he is surprisingly calm, cool and collected about his situation.
"I'm just going to take my time and not rush into any decision," Byrd said. "I want to make sure that the decision that I make is completely the right one."
Having narrowed down his choice of suitors to NIU, University of Louisiana, UIC, Ball State, ISU, SIU and the University of Portland, he says that he is looking for an institution that excels in either Engineering or Architecture.
With two more visits still available, he will take his trips next week and says that location will not play a factor in his decision.
Experiencing a successful senior season on the hardwood, Byrd helped lead his Mustangs to the Chicago Public League City Title and downstate for a third place state finish.
"He does a lot of the little things: blocks the shots, gets the rebounds, starts the fast break for us and takes good shots for us," said Morgan Park coach Herb Ray. "You are going to see bigger and better things from him. Whoever gets him is going to love this guy."
Described as a vocal leader by Ray, Byrd's marks in the classroom have also spoken loud and clear.
With a 3.5 GPA and a 21 on the ACT, it is no wonder that colleges throughout the country are drooling over inking him for their respective teams. So, while the colleges eagerly await a decision, Byrd will calmly be chilling in the background, icing his ankle.


Copyright © 1999-2000
High School Elite, All rights reserved.