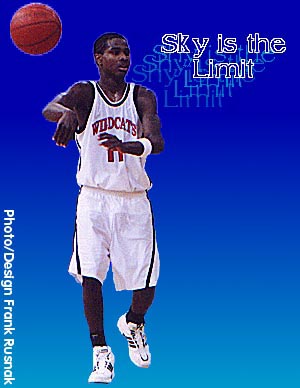 With an abundance of talent, there is no telling
how far Proviso East will go this season.

East Names New Coach
By Frank Rusnak
As an early favorite to get to Peoria for the Elite Eight, Proviso East has finally named their new head coach to replace Andrew Johnson, who has since taken the head job at Peoria Manual.
---
"We are definitely going to have a nice team. The sky is going to be the limit for us."
Troy Jackson
Proviso East Coach
-His foresight on his new team.
---
Formerly an assistant at Thornton, serving under Rock Hill for the past seven years, Troy Jackson helped the Wildcats downstate three times during the mid 1990's. Prior to his stint at Thornton, Jackson was a sophomore coach at Leo for four years, and before that he spent a short time at Luther South.
With high hopes for next year having a very talented Proviso East squad, Jackson says that it is not an unrealistic goal for his team to win the state title this year.
"We are definitely going to have a nice team," said Jackson. "The sky is going to be the limit for us. This is a very special team and whenever you have a special team, anything can happen."
Although the team has yet too meet and talk with Jackson, Proviso East captain Dee Brown agrees with Jackson's assessments of the team. "We have a lot of talent and we play great as a team," said Brown.
Returning their acclaimed triumvirate of guards, which includes Dee and who he calls "the two best juniors in the state" in 5'10" Charles Richardson and 6'3" Shannon Brown, Jackson would be hard pressed to be bestowed with a better backcourt in the state. Now, only time will tell if he can mold this group into the state championship caliber team that he hopes for.


Copyright © 1999-2000
High School Elite, All rights reserved.