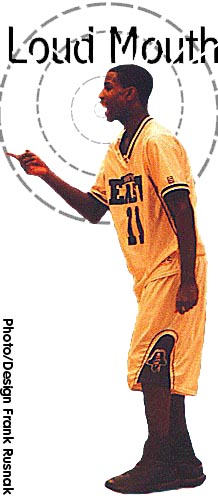 Never one to hold back verbally, Dee will be
taking his verbose game to Illinois in two years.

Brown to Illinois
By Frank Rusnak
'Blue 42, set, set, hike!'
'They're in a man to man. Run an isolation!'
(Singing) 'Here comes the boom. Here comes the bomb.'
'What's up baby? My names Daniel, but everyone calls me Dee'
Whether he's playing football, hoops, listening to his favorite song by the artist DMX or using his favorite pickup line on a girl, Proviso East's Daniel "Dee" Brown is constantly yapping away.
---
"He's not afraid to yell at kids and tell them what to do or to play harder, and he has the ability to do that and have them take it positively and not negatively."
Stan White
Wildcats Coach
-On Dee's leadership qualities.
---
With Dee and his Proviso East teammates at the University of Illinois' Team Camp this past weekend, Dee continued with his vocal cords oscillating all weekend long.
With the Pirates running rapid though the competition at the Moody Bible Institute in downtown Chicago, Dee was on a roll and had plenty of reason to be talking.
"I just love to talk trash," said the jet-quick guard, Brown. "It gets me pumped, because once I talk trash, that means that [my opponents] are going to talk back and that's what gets me going, because it says that they are trying to give me a challenge and challenge me." And presenting Dee with a challenge is the last thing that you want to do to this three-year varsity starter on the hoops squad.
At 6-feet even and barely 170 pounds, he might not be an overwhelming force by judgment of the eye, but just keep two things in mind when going up against Dee. First, keep the pace of the game as slow as possible. Second, don't get him angry. If you disobey one of those rules, you mine as well call it a night, because it's over.
With uncontainable end-to-end quickness, this one-man fastbreak thrives in an open court setting, but his game is not only limited to those surroundings. With great court awareness, a craft for delivering the ball perfectly to his teammates and defense so intense you'd opt to rather walk through the ring in a WWF battle royal than go head-to-head with Dee, he has a vast array of abilities on the court. With a recently tuned-up jump shot, he now possesses the total package.
"Just working on my legs in the weight room has really helped my jump shot," said Brown, who now rises high above the reach of his defenders on his smooth jumper. "I used to shoot a set shot."
With total domination of the courts, Dee's Proviso East squad rolled into the semifinals of the Illinois Team Camp. However, an unexpected roadblock by the name of the Thornwood Thunderbirds knocked the Pirates out of the tournament. But don't think the loss humbled Dee, or even shut his mouth. Not even for a moment.
After the loss, Dee's spirits were immediately lifted by his decision he would make to the Illinois coaching staff on the spot.
"After the loss, I went up to the [Illinois] coaches and told them I was coming [to Illinois]," said Brown, who had been offered by Illinois since the end of his sophomore year. "I was just feeling good about my future there. I just wanted to commit and focus on getting my game better and better. I can't say I'm going to go in and just score 20, but I'm just going to go in and work my hardest."
Letting down such programs as Michigan, Michigan State and Iowa State, Dee is happy about his future with the Illini.
While Dee currently lives in the Western Suburbs, he grew up on the West side of Chicago. Moving to his current home of Maywood before his freshman year, Dee would've been the property of the Red West Conference if it weren't for his change of address.
Raised in Chicago, Dee lived by and hung out with a Red West star from a year ago, in 6'3" combo guard Luther Head. Friends while they were growing up, the pair will be reunited in two years at Illinois, as Luther will be suiting up for the Illini this season.
"I think that we will work terrific together in the same backcourt when I get there," said Brown, "if he is still there, that is. I really think he is really that good."
Assuming that Luther sticks around the Champaign campus for a few years, there will be a nice compliment of two great scorers, creators and ball-handling wizardry giving Big Ten backcourts a fit.
With newly named Proviso East coach Troy Jackson, Dee is going to use this time, which would've been used in previous years for training for the football season, to finely tune his body for basketball season.
When Dee entered the halls of Proviso East as a freshman, he became an instant impact on the football field as the Pirates quarterback. In a sport that he hadn't played in prior to high school in any sort of organizational league, Dee flourished with his rocket arm and quickness out of the pocket.
"When I was little it cost too much money and I always wanted to play, so I tried it out when I got to Proviso," said Dee, who is the proud owner of a 3.5 GPA.
Opting to put off his football career for precautionary reasons, Dee has a summer full of hoops that includes such events as the Nike All-American Camp and the AAU Nationals.
"I don't want to risk anything in football this year," Dee said. "I'm the type to get little minor injuries. I just want to focus on what I've got to do for the future, and present, for basketball. And become a better player in the off-season."
With Dee's teams always a threat to win no matter the situation, it is his unmatched leadership that sets him above the pack. Of course his loud mouth has something to do with that, too.
"He plays much bigger than he is," said Dee's AAU coach, Stan White. "He's not afraid to yell at kids and tell them what to do or to play harder, and he has the ability to do that and have them take it positively and not negatively. Some kids will do that and other people will just rub them off, but they listen to him."
Averaging 19 points, 8 assists, 5 rebounds and 5 steals last year for Proviso, Dee also finished the season with all-state honors.
A true example of a team leader, Dee not only does the vocal part, but he also backs up his words with his actions.
"I give all I got and I think people feed off of that," said Brown. "And me not afraid to tell other people what to do, that takes a lot of courage."
With an extremely bright future ahead of him, the only thing missing from Dee is a moment of silence to enjoy all of it.


Copyright © 1999-2000
High School Elite, All rights reserved.