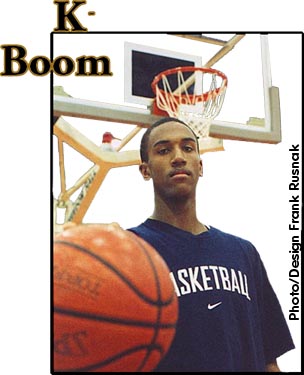 Taking his game to new levels, Kellen Easley is
using his spare time resourcefully

Workin' Hard
By Frank Rusnak
As the school year winds down, it is easy to become complacent about your game and even a bit lazy at times. But don't think that is happening to Joliet's 6'7" Kellen Easley.
Go home after school, pop in a microwavable snack, sink into the couch and watch some midday TV sitcoms, as the clock ticks away. This might be a normal routine for some, but not this slick, long-armed ball-handler.
---
"He used to beat me every time, but now I'm starting to win some more."
Kellen Easley
-On his one-on-one matchups with good friend, Roger Powell.
---
The off-season, is when the real players are made, and Kellen, aka K-Boom, realizes that.
Everyday after school, Kellen is a regular with the football team at Joliet Township High School to increase his size and strength. After the football team gets done with their lifting, he goes on to work out alone, working on specified basketball muscles. When the school weight room is closed, Kellen pumps iron with his father who used to be in competition as a power lifter back in the day. After the weight room is through, it's off to the court for Kellen.
Doing everything from footwork drills, to running self-imposed suicides, to ball-handling drills and working on his shot, Kellen certainly has a full sleight when he's in the gym. But if there is ever time made from his workouts, it's when his good buddy and fellow Joliet student, Illinois-bound Roger Powell drops by.
When the 6'6" Powell isn't working at Joliet's Skate West Roller Rink, he will come by the gym for some intense one-on-one matchups with Easley.
"Sometimes, when Roger isn't at work, we just go at it, from like 4 o'clock to like 6 or 7 o'clock," said Easley. "He used to be beat me every time, but now I'm starting to win some more."
Holding down a full load with his conditioning that he does after school, one would think that all he would have time to do is come home, eat, do his homework then hit the sack. But miraculously, Easley finds time to also be in the school band, be the head drum major of the marching band and next year he will be appointed the Vice President of the band.
He says that everyone in his family is in band, but in next year he will opt out of it due to his anticipated time constraints with the basketball team in college.
"Band is like a family tradition and it looked fun so I just joined it," said the master of time management, Easley.
At 6'7" Kellen is his teams tallest player by several inches, however, he still runs the point guard position for his Steelmen.
"When teams try to trap or zone us I can see over them, and it makes it easier for us to get it up the floor because we are going to be a running team this year," Easley said.
With a good handle on the ball, exemplary court vision, the versatility to play a variety of positions and keen basketball awareness, it is difficult to find a weakness on this 6'7" trumpet player. At one point, you could look at his sleight of build and say that his strength is definitely something that could hinder him in the future, but he is already much larger in the shoulders and arms, which has helped him in his rebounding efforts. His jump shot lacks consistency and therefore, confidence, but he is looking to render that problem this off-season.
On the defensive end, it's a wonder Kellen hasn't ended up in the Joliet Correctional Facility with the amount of thievery he does to the opposition. His burglaries usually result in an all-out sprint that is finished with a hard two-handed flush by the pliant Easley.
Listing some of his favorite schools that are currently showing interest as Illinois, Minnesota, Wisconsin, Wake Forest, Iowa State, Marquette and Northern Illinois, Kellen has also been receiving considerable attention from Southern Illinois, Southwest Missouri State, Ball State, Bowling Green, Illinois State and Auburn.
Looking to play the point guard spot in college if that opportunity arises, he says that he would be just as happy in the off-guard or small forward positions.
Until college, his goals are set with his Joliet High School team. Looking to do serious damage and better last year's Sectional Finals bow-out, he has confidence with this years' squad as the only returning all-conference player, but with the addition of Downers Grove South transfer, Branden Dillard.
"We should do real well next year," said Easley, who's Steelmen recently won the championship at the North Central Team Camp. "Everybody on our team is quick, we are just going to be a running team next year. We should blow everybody out."


Copyright © 1999-2000
High School Elite, All rights reserved.