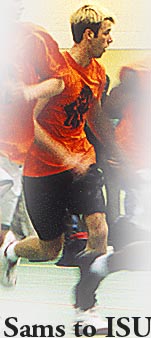 Indiana State Gets Verbal

Yesterday morning, Indiana State received a verbal commitment from Mt. Zion's 6'7" power forward Jake Sams.

The Sycamores receive a player with solid face-up skills to the basket and that can put the ball on the floor and get to the hoop.

The son of a coach, Jake's father is an assistant on the Mt. Zion team, Jake is a smart player with sound fundamentals. Still just scratching the surface of his potential Jake could be a solid player in the Missouri Valley someday.

"Jake is a up and coming front liner who is finding his strengths playing against athletic front line players. His biggest strength right now is his ability to step outside and shoot the ball from 3-point range and in. Right now he needs to get more aggressive, but this is a good catch for Indiana State," said Jake's Illinois Warriors AAU coach Larry Butler.

Playing this spring for the Warriors, Jake has risen his stock to a point where a number of mid major programs have been enticed by him.

Looking hard at Sams prior to his announcement were Evansville, Southern Illinois, Loyola Chicago and Indiana State.

This being the sixth player from Larry Butler's Illinois Warriors team to have committed early, Butler considers this is a very strange year. But feels that this is a testament to how his program continues to draw recruitable athletes year in and year out.

Jake is scheduled to play with the Warriors this weekend in Milwaukee at the Wisconsin Playground Warriors Invitational.

Copyright © 1999-2000
High School Elite, All rights reserved.