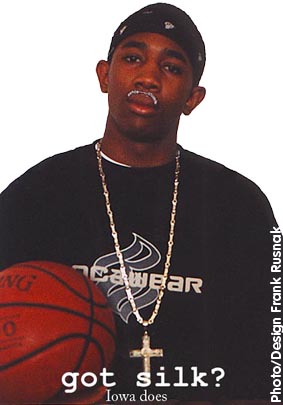 Iowa-bound Pierre (Silk) Pierce
Silky-smooth Pierre Pierce is a player that loves to have complete control at all times and be in charge. Signing with the University of Iowa made it a perfect fit for the 6'3" combo guard.
"At Iowa they like to have guards control the tempo and have them create plays--create the offense," said the athlete supreme, Pierce. "I like to be in control and I feel that Iowa will allow me to do that."
A long-limbed combo guard, Pierce was recruited for his point guard abilities, which is the position that he is most happy with and comfortable playing.
Other intriguing factors about the University of Iowa that appealed to "P", as his friends refer to him, was the opportunity for immediate playing time and the optimistic coaching staff.
Pierre-
"...we aren't going to let anything stop us this year!"
"They have a young coach (Steve Alford) and he said he was going to come in there and turn things around and make things a lot of fun," Pierce said. "I got real comfortable with the coaching staff."
His unofficial campus visit to Iowa, last Easter weekend, was what eventually pushed him over the hill and persuaded him that Iowa City was the place for him.
While there, P had a chance to talk to current Hawkeye and former Illinois High School star, Rod Thompson. "Rod let me in on a lot of things," Pierce said. "He said you get treated like you're on a pro team there because there are no pro teams in Iowa. Iowa Hawkeyes are the number one priority! Then, the other guys showed me around and we just had a good time." However, it's not all fun and games for Pierce.
Coming off of an injury with a broken right ankle, which he insists is completely healed, Pierre is working on his weakness now. When he can't be found in the gym improving on his outside shot or hitting the weights, getting bigger for the next level, he is on the road with his summer league team, the Illinois Warriors.
When he heads back to classes at suburban Westmont High School in August for his senior year, Pierre and his teammates will try to better last year's mark of a Super Sectional appearance, falling out to a scrappy Bishop MacNamera.
"This group now [at Westmont], we've been playing with each other since we were eighth graders and we aren't going to let anything stop us this year," proclaimed Pierce. "I just hate to lose. I just go into the game with the right mind set and try and be silky-smooth."
Copyright © 1999-2000
High School Elite, All rights reserved.