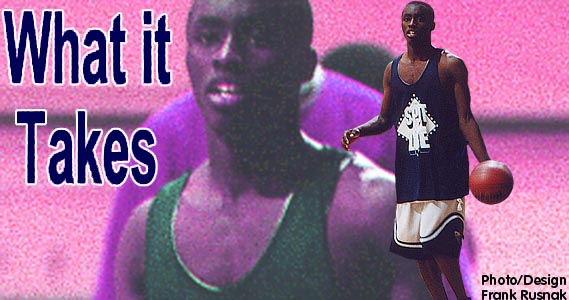 Coby Bridgemon will take his game to
New England next year to get his priorities in order.
Bridgemon to Prep
By Frank Rusnak
Some things just have to be done, and for Coby Bridgemon going to prep school is one of those things.
"Gangs, drugs and a bunch of other distractions that I just have to get away from," are all reasons Bridgemon cites as motivation for wanting to leave the North Side of Chicago.
A 5'10" point guard from Prosser High School, Coby feels that his life is heading in the wrong direction and having a whole new beginning would help eluviate his troubles.
"I know the longer he stays away from Chicago the better," said Coby's half-Godfather and current Foreman High School coach, Terry Head. "Some of the stuff that he has to go through every day is crazy."
---
"I know the longer he stays away from Chicago the better."
Terry Head
-On Coby going away to Prep School
---
While Coby is having all sorts of problems off the basketball court, the only problem on it is the one that he presents for his opponents.
Declared ineligible for the second half of the basketball season last year due to lack of grades, Coby set the nets on fire to kickoff the year. Averaging 24 points and 5 assists for the Falcons, Coby was awarded with all-tournament honors in both Thanksgiving tournaments his team participated in: St. Patrick's and Nile West.
With eye-popping quickness, his end-to-end speed with the ball in his hands is not exhibited in many. Knowing how to harness that quickness, though, is what makes Coby so valuable.
"He's deceptively quick," said NBA-legend Sonny Parker, who Coby (among others) work out with at the James Jordan Boys and Girls Club. "He knows how to change speeds. Most guys have a lot of speed and quickness, but they are always on the fast forward."
Using his extreme speed to create havoc on the defensive end or to breakdown the defense, it's all the same to Coby who is one of the quickest players in the state. At one time his game was immune to the outside jumper, but advancing past that, he is now a threat from deep, as well. Formerly the owner of a low push shot from his hip, Coby now possess a pretty, high-rising jumper courtesy of neighborhood friend and Arizona-bound Will Bynum.
"Will told me that I'll get my shot thrown back in my face in college with the way I used to shoot," said Bridgemon. "So I raise it up real high now."
Starting off the summer with Troy Johnson's now defunct Illinois Warriors 17-U team, Coby now runs with the Illinois Fire and will head to the Adidas Big Time in Las Vegas on July 24.
Taking a serious approach to the game of basketball, his work ethic is also a very important ingredient to setting Coby apart from the rest.
"He works really hard in his workouts," said Parker. "He very seldom will play open gym basketball (AKA, pickup games), he always wants to workout and seriously work on his game. He's there on the side jumping his rope, working with the heavy ball or shooting jumpers. He wants to get better and he wants to improve."
Although trouble surrounds Coby in the Second City and he doesn't do his absolute best to stay away from the distractions, there is no mistaking where his heart is.
With a smile that will brighten up a room, Coby will give the shirt off his own back if it means helping out a loved one.
"Coby is a great kid with a good heart," said Head. "He's willing to help people as much as possible.
"He's the type of person who is willing to work when given the opportunity," continued Head. "He's a relentless ballplayer--a stick of dynamite. He gives you everything he has for his size. He will be a division one basketball player. With his decision to go to Prep School, I hope he takes advantage of this opportunity. If he takes advantage, with his heart, he will be big time."
Selecting Milford Academy, which sits in a small town in the middle of nowhere in Connecticut, Coby is eager to start a new beginning.
Better surroundings can only help a person so much, but it is an attitude and inner willingness to change that needs to be had.
"For one, I've got to get my academics straight," Coby said, "to play my first year of college is my main reason. Secondly, for a little more exposure [for basketball]. Thirdly, is to get away from Chicago and to get a new experience. My situation could only get worse in the situation that I'm at now with where I'm at."
With a grade point average of sub 2.0, his score of a 19 on his pre-ACT without taking any preparatory classes is promising.
Those great traits that Coby harnesses on the basketball court just need to be taken over to the classroom, and his future will be brighter than those pearly whites flashing when he smiles.
Head puts everything into perspective on Coby, who he nicknamed "Rock" for his toughness: "I think for Coby going off to Prep School is the best decision for him...for his life."


Copyright © 1999-2000
High School Elite, All rights reserved.