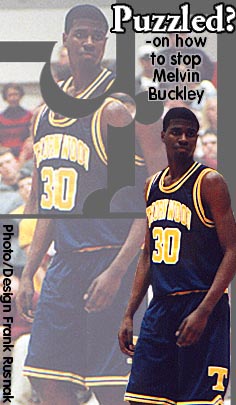 With a versatile game, it is tough to
shutdown Melvin Buckley on the court.
Buckley to Purdue
By Frank Rusnak
It feels just like yesterday when Melvin Buckley was playing in near obscurity at Marian Catholic. But since his venture to the South Holland school across the street from his house, the 6'7" Buckley has hit it big time.
Teaming with current Chicago Bull, Eddy Curry to lead Thornwood to a near dream season, participating in the famed Chicago Pro/Am and now committing to the Purdue Boilermakers, Buckley has certainly moved up in the world.
---
"He causes a lot of havoc on offense with his outside shot, but then he could take it to the basket, too."
Mac Irvin
-On Buckley's game
---
With the near 180-degree turn that his basketball life has taken since transferring to the Thunderbirds, Buckley feels that he wouldn't be as prominent of a name, blessed with the opportunities that have been given to him if it weren't for the change.
"[Transferring from Marian Catholic] really made my game what it is today," said Buckley, a versatile wing forward. "Coming from the Catholic-mentality of playing basketball the one thing I took from there was really working hard. It really paid off in that respect. As far as becoming more of a shooter and slasher at Thornwood, that's what really started to elevate my game."
While arriving onto an already established Thornwood squad with one of the nation's best players in Curry, Buckley certainly increased his time in the spotlight. Prior to the transfer, his name was a stranger to the area newspapers, but that all changed when his Thunderbirds tore through their regular season schedule and advanced all the way downstate to the Elite Eight, where they fell to Schaumburg in the state title game. Also, while Buckley was at Marian Catholic, college coaches were still just trying to grasp what this youngster had inside of him for the future. Little did many of the Midwest's elite coaches know that this smooth-shooting wing player would soon become a budding star familiar to the national limelight.
However, one Big Ten college that foresaw the future better than their counterparts was Gene Keady's Purdue University. Showing mild interest in Buckley even when he was at Marian Catholic, the Boilermakers left a lasting impression with Buckley with their premature recruiting efforts.
"I feel real comfortable about the decision [with Purdue]," said Buckley, who was also offered by Marquette, Ohio State, DePaul, Iowa and a slew of mid-majors. "[Assistant coaches] Jay (Price) and Cuonzo (Martin) have been blowing up the phone 24/7 [at the Buckley household]. There are some schools who recruited me who acted like they liked me, but Purdue made me feel like they really wanted me."
Fine tuning his game against NBA players and future pro's in Chicago's Pro/Am League, Buckley is taking his game to the next level.
"He was a little nervous in his first game at the Pro/Am," said Buckley's AAU coach Mac Irvin, who also coaches in the Pro/Am. "But the second time around he came on pretty good. You don't expect to move mountains in that type of league, but he's been playing better as time goes on."
Teamed with such stars as Sergio McClain (former Illinois player), Imari Sawyer (DePaul), Leon Smith (former NBA player), T.J. Cummings (UCLA) and fellow prep star Elliott Poole from Farragut, Melvin has been trying to absorb all that is around him.
"I've learned from [the Pro/Am players] a doggish mentality," Buckley said. "To dog anyone that steps in front of you and not to hold back." But has that "doggish mentality" been applied to Buckley at all? "When I guarded Paul McPherson (Golden State Warriors) once that was quite an experience," admitted Buckley, while saying that he was 'dogged' a little.
Unlikely to see any competition on the level of McPherson in his upcoming high school season, Buckley looks for good things with the Thunderbirds this year.
"I think we will be better than last year's team," said Buckley, "but it will be a different type of better. I don't know if anyone can match what we did last year as far as getting downstate and making it to the finals, except for losing to Schaumburg. But this team has the potential to surprise a lot of people and take [state]. And with the way Geremie Allison has been playing, who knows?"
Allison, a 5'10" junior has stepped up at the point guard spot--the main question mark on this year's squad. Along with Allison, Thornwood has had several players start to come out of their shells and prove that the depth of this year's team will not be a weak spot, as it was last year.
Before Buckley's quest for another championship starts he is putting his efforts into eliminating his main weakness--his weight.
Now up to 195-pounds, Buckley has been working out with trainer Will Franklin, who has worked out many NFL players in the past. Also, receiving advice from his father, Melvin Buckley II, Mel Trey--as his mother often refers to him as--can only receive positive advice from his dad who formerly played basketball at Chicago State, and now bench presses a solid 475-pounds and is built like a NFL linebacker himself.
Hoping to go into the high school season at a solid 205-pounds, Buckley is a tough individual to match up against on defense.
"If he uses that first step he can beat you, but the more and more he explores playing big time basketball it makes him do more things that he wasn't able to do before," said Irvin. "He causes a lot of havoc on offense with his outside shot, but then he could take it to the basket, too. I think this year he is going to be something in high school."
With the height, length and versatility to do damage inside (on the high school level), he is equally as comfortable at drilling an outside jumper where he shot 40-percent from the 3-point stripe while averaging 14 points, 5 rebounds and 3 assists last season.
"The only way to stop me now is to steal my girlfriend," said Buckley, referring to the tactic of getting into his head. "You have to play with me mentally because if it's just on the court, I'm going to find a way to do something out there for my team."


Copyright © 1999-2000
High School Elite, All rights reserved.