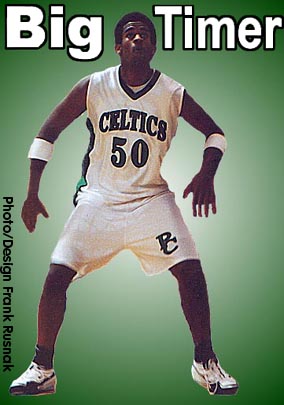 Mike Thompson's high profile matches his 6'10" frame
Thompson's Domination
By Frank Rusnak
Large and in charge, everything about Providence Catholic's Mike Thompson is big time, from his size 17 shoe to his college choice of the Duke Blue Devils.
---
"We only won 9 games last year and I think that overshadowed how dominant he really was."
Eric Long
-On Thompson's domination
---
The 6'10" 240-pound Thompson resides in suburban Joliet where he's been tearing down rims since he was a sixth grader. Rather than attending his local high school of Joliet Township with friends Roger Powell Jr. and Kellen Easley, among others, Thompson was shipped off to New Lenox's Providence Catholic High School.
"I really didn't want to go to Providence because all my friends were going to JT," admitted Thompson. "It was strictly my parents decision."
Being sent to the Celtics where tuition runs around the tune of 5 G's a year, athletic scholarships aren't present and the basketball squad some years is even less existent, was tough for Thompson.
However, 'moma's always right' and this wasn't an exception.
"Now that I look back on coming to Providence, it really was the best decision both socially and academically" said Thompson, who was the only African-American on the team last year and achieved a 1010 on his SAT with a 2.9 GPA.
Feeling that Providence has really helped him prepare with what he has down the line at Duke, Thompson is happy with his choice.
"Everybody always looks at Duke and doesn't like them because of who they are and because they are always winning," Thompson said. "Most people want to see them lose, but I always wanted to go to Duke even when I was younger."
With a big reputation to live up to now that he is headed to Cameron Indoor Stadium, luckily he will have longtime friend Sean Dockery to join him in Durahm.
In 7th grade was when the two had their first encounter. With Dockery playing with the Chicago Courtmasters and Thompson on the Illinois Wildcats, they were constant opponents. Their rivalry was enhanced by the fact that they both played the same position of center. Since then, Dockery didn't continue to grow like a weed as Thompson, but enhanced his guard abilities.
Now changing from adversaries to teammates will be a change for the better, according to Thompson, who keeps in touch with Dockery over the phone often.
This week (July 25-29) at the Adidas Big Time tournament, they will have one last chance to go up against each other if Dockery's Illinois Fire team meets up with Thompson's Raleigh Heat squad.
A member of the Illinois Warriors AAU team throughout high school, Thompson remembers fondly his trips when he would travel with Darius Miles and company as a freshman. However, looking for a change of scenery, Thompson hooked up with the Heat for his last year of AAU hoops.
Thompson's brother, Elgin, made a couple of calls and found out that the Raleigh Heat were looking for a big man. Coached by Kenny Randolph, the Heat looked like the perfect team in the Thompson's mind. Not only is it near his future university, but also on the team is future Blue Devil J.J. Redick (6'4" WG, Roanoke, Virginia) and Randolph's son, Shavlik, who is regarded by some as the top player in the nation.
With AAU and his busy summer schedule, Thompson has gone up against the nation's best competition since he was in high school, playing with the Warriors. As a sophomore he started to attend the Nike All-American Camp and last year he played in the National Basketball Association Players Camp. Adding to his extensive resume, Thompson suited up for the USA Basketball Men's Youth Development Festival in Colorado Springs, CO in June of this summer.
Getting as much good competition as he could during the summer, Thompson will be hard pressed to find such stellar opposition when practices kickoff for Providence, where he sticks out like a sore thumb, not only for his skin color, but his height and girth as well.
The only player on the team that could dunk, second year Providence coach Eric Long feels fortunate he is able to coach the personable Thompson.
"For a young coach, [coaching a player the caliber of Thompson] is something that I have obviously never experienced," said the 31 year old Long, who previously coached three years at Class A Dwight. "Coaching a young man who is as highly recruited as Mike was, it was a very interesting experience. Working with a young man like Mike, who is just a great person and student, as well as a player, is great.
"Some coaches can go a whole lifetime without coaching a player that gets as much attention as Mike does. I was familiar with some of the media and different things on a much lower level," continued Long, who coached New Hampshire-bound Brandon Krug at Dwight who was last year's Class A Dunk Champion, "but now having Mike has been a totally different experience."
Never quite catapulting himself into the state's spotlight, as much as fellow players of his class such as Dockery and Proviso East's Dee Brown have, Long hopes to change that this year.
"We only won 9 games last year and I think that overshadowed how dominant he really was," said Long. "We're hoping that this year Mike can step up more vocally and get the adjuration that he deserves state wide."
Nothing less would be expected out of a Big Timer, like Thompson.


Copyright © 1999-2000
High School Elite, All rights reserved.