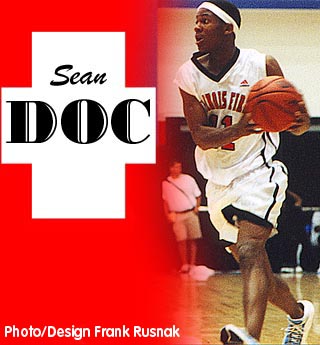 Duke-bound Sean Dockery operates on his competition
while on the floor.
Hot Summer Julian Night
By Frank Rusnak

Hickory, dickery Dock, the mouse ran up the clock / Now about his stock / It's going through the roof / Poof! He's gone / Off to Duke and Coach K / He won't have to pay / He's got it like that / Ridin' phat, on the South Side / Don't chide his stride / Stop all the rumors concerning the books / And the mean looks / The man is giving it is all / And he won't fall / Cuz that's not the way papa Steve taught him at all / Raised in the gym / He's been ballin' since he was a shorty / And even when he's well past forty / He'll still be going strong / There's nothing wrong / With this man's love for the game / No shame / Just cuz you aren't the same / We aren't all resembling / Making opponents trembling / He's rockin' the 3 stripes on a size 13 / Now everyone wants to feign.
Everyone knows him / 'Preps' made him a star / But it's his heart that will bring him far / Rockin' the Julian Orange & Brown / Don't frown / Nothing's bringing him down / Quicker than the blink of an eye / He'll make a grown man cry / Just because he doesn't shoot it, don't sleep on that J / Or else he'll make you pay / Layin' you out like a deck of cards / He's better than any of the city's guards / Crack! / Splat! / He's making your ankles break one way, then back the other / His game is unlike any other / Hands quicker than a magician / He'll dominate under any condition / Yes, he's old for his age / But don't let that be a gauge / He's been dominating the CPL even as rookie / So don't play hooky with Sean D / Cuz he'll make you see / The light is always burning bright / Even on a hot summer Julian night.


Copyright © 1999-2000
High School Elite, All rights reserved.