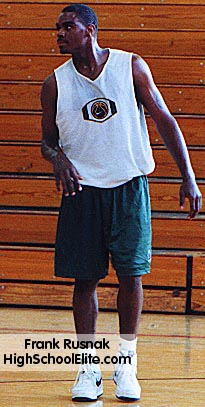 NIU Gets Swingman
Former Harlan High School Basketball Assistant, Andre Peavy, being hired by the Northern Illinois staff left no doubt in rising star Chris Lawson's mind that he would also be headed to NIU.
"Peavy is a really good coach, he has helped me out so much and I know he could continue to make me better on the next level," said the 6'4" Harlan senior Chris Lawson.
Chris' high school career started with a rather modest beginning, not garnering much playing time on the frosh-soph team at Chicago Robeson. Then moving to Oklahoma for his sophomore year, Chris wasn't getting anywhere fast. His family's decision to move back to Chicago to Harlan High School was the best thing that could have happened to Chris.
"That is really when my game started to take off. It was mainly because of Peavy helping me work on my game, telling me when I should crossover, when I should push, when I should slow-down. He really taught me the basics of the game and individual skills."
When Coach Peavy was hired early this summer to the NIU staff, it was only natural that Chris would follow. "Peavy told us to come down a couple of weeks ago and it was cool because it was so close to home. Plus I knew they had a good background in engineering and business which I'm going to major in."
Other schools that were showing interest in the athletic swingman were Colorado State, Loyola (Chicago) and UIC.
Averaging 23 points and 7 rebounds last year for a Harlan team that finished in second place in the Chicago Blue South, Chris is optimistic about his team's future. "This year we can win conference for sure!"
Already having a well-rounded game, Chris is continuing the hard work this summer. "I shoot 300 shots a day, lift weights on off days (Harlan plays in the Julian Summer League), work on ball-handling, moves in transition and just fine tune my game."
Although Chris hasn't made any noise on the national circuit this summer, he is anxious in the future to suit up for the Illinois Warriors AAU team. "I was going to go with them to Milwaukee but I had a family situation that I had to take care of."
Look for Chris to make the trip with the Warriors to South Carolina for the Peach Jam in mid-July and continue to have a prosperous summer.
Copyright © 1999-2000
High School Elite, All rights reserved.