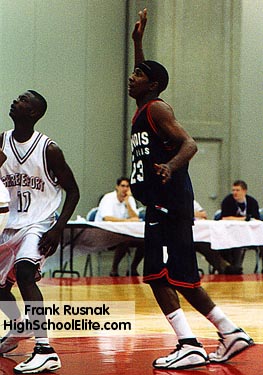 Illinois Warriors' Pierre Pierce lights up Peach Jam
News & Notes
The Illinois Warriors took second place in the talent filled Nike Peach Jam Classic in Augusta, Georgia this past week being defeated by the Wisconsin Playground Warriors 75-65 in the finals. Iowa-bound Pierre Pierce is starting to make a serious national reputation with his recent play at the Nike All-American Camp and here at the Peach Jam. Netting 34 points against the loaded So. California All-Star Pierre showed what he is capable of. Mt. Zion's 6'2" point guard Matt McCollum also played well for the Warriors racking 18 points in the semifinals.


At the recent Wendy's All-Star Classic Team Illinois went 1-1 defeating team Indiana and losing to team Michigan. 6'5" shooting guard Brett Melton led all scorers in game-one with 28 points. 6'4" swingman Dwayne Wade led the team in game-two with 30 points. Team Illinois consisted of Abingdon's Barry Welsh(Indiana State), Richard's Dwayne Wade(Marquette), Mahomet-Seymour's Brett Melton(Illinois), Downers Grove North's Drew Carstens(Augustana College), Thornridge's James Moore(New Mexico State), West Aurora's Austin Reel(Lewis University) and Louis Smith(Loyola-Chicago), Quincy's JD Summers(Western Illinois), Elgin's Marcus Smallwood(Northern Illinois) and Marcus Howard(Indiana State) and Hillcrest's Odartey Blankson (Marquette).


Abingdon High School received good news with former Dunlap player, 6'10" Dan Leadbetter, transferring to the Commandos. Leadbetter is a promising player with great size and a solid frame who is surprisingly athletic for his stature.


6'1" senior Armon Gates will be attending his third school in his high school tenure. Originally, he started off at Whitney Young where his older brother Dennis (now playing at Cal-Berkley) played and won a state championship. Then, Armon proceeded onto Lincoln Park High School and now the combo guard is headed to his local high school of Country Club Hill's Hillcrest High School.


Lateef Jackson, previously of Class A Rock Island Alleman, is now playing with Class AA power Rock Island. A 6'4" swingman Lateef is an impressive athlete with good scoring ability.


Galesburg received favorable news with the addition of a North Carolina transfer. Ryan Walker, a 6'3" 195 lb. junior shooting guard, reportedly led the Charlotte-metro area in scoring last year as a sophomore.
Copyright © 1999-2000
High School Elite, All rights reserved.