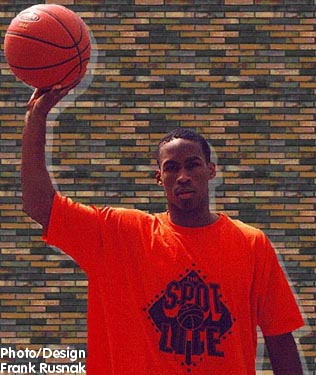 Silent Intimidator
Stone-faced Rod Middleton lets his game do the talking for him and it speaks loud and clear.
"I just go out there and play, if they get intimidated so be it," said Marian Catholic's 6'3" senior, Rod Middleton. "I just try and take it to them because I know they can't stop me."
With a chiseled frame, an intimidating game-face, great athleticism and good height for a guard, indeed it is tough to stop the 3-sport star.
Playing basketball, football and running track since the his early days, Rod attributes a lot of his strength and footwork to football and track. Already receiving offers from several top-notch colleges for his free-safety skills on the gridiron, Rod politely turns then down, as he will stay with his true love of the hardwood when he goes off to college.
Not set on if he'll make an early commitment yet or not, Rod is patiently waiting for the right situation where he feels completely comfortable. "After July I should have a better feel on where I want to go," he said. "Then I'll have a good idea of who's really serious. If there is a school I like then I'll commit early. If not, I'll wait until the end of the season." In no rush to make a decision, Rod is now planning his visits to universities.
Just getting back from an unofficial visit to Indiana State yesterday, Rod was happy with how his trip went. "They have nice facilities and friendly people," said the combo guard, Middleton. "They really sold me on the organization. It was a nice trip."
Along with Indiana State, there are Georgetown, Ball State, Illinois State, Bradley and Loyola of Chicago who are frequent callers to the Middleton household. However, Rod has not been around to field many of these calls, as he was out of town at the NBA Players Camp in Washington DC last week. "Overall the NBAP Camp was a good camp," he said. "There were some days where I thought I could have played better, but overall I was pleased with my performance."
Attracting top players from throughout the country Rod was not intimidated by anyone's lofty status going into the camp. "If they were the top players in the nation then I didn't know it and I just went out there and played," confidentially proclaimed Middleton. With his solid frame-of-mind and sound game Rod helped guide his team to the championship game while starting at the shooting guard position. With Rod increasing his exposure tremendously at the NBAP Camp, it looks like it will only continue to rise with his upcoming schedule.
Not receiving any invitations from Nike or Adidas for their respective All-American camps, Rod has a week of dead time before the rush begins. First, he will travel to Augusta, Georgia for the talent packed Nike Peach Jam. Next comes the Nike Super Showcase in Orlando, Florida. Then he proceeds onto the Nike Global Challenge in Portland, Oregon. Coming off a sprained ankle that kept him out of action at the Illinois Team Camp and the Wisconsin Playground Warriors tournament, Rod is using this dead time to relax and rest his ankle.
But don't think he has become satisfied or unmotivated because there is no plateau in Rod's horizon. "Everything I do, it's always something to improve my game," he said. "I workout everywhere. When I'm doing the dishes, I'll be doing calf-raises, watching TV and I'll be dribbling the ball." Then, of course there is the weight room, where Rod is no stranger to, as he spends long hours there for football.
With all of this training and great competition Rod is facing, his high school season at the Chicago Heights Catholic School should be a breeze. Putting up solid numbers to the tune of 14 points, 7 assists and 7 rebounds last season for a 19-7 team, Rod is confident about his teams future. "Hopefully we could have a 20 plus win season but it depends on how hard everyone else wants to work." However, with Marian losing 6'6" star-junior Melvin Buckley to a transfer, the future of Marian Basketball is uncertain.
One thing, however, is certain: Rod will continue to work in his silent ways, but don't think silent is not effective. Just watch Rod.
Copyright © 1999-2000
High School Elite, All rights reserved.