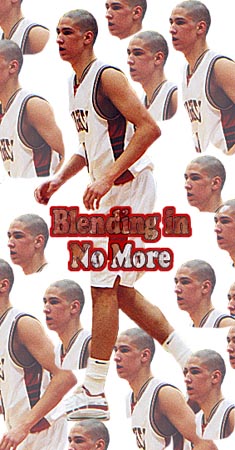 Throughout H.S. he's been in someone's
shadow, now it's time to cast his own
Augustine makes a statement
By Frank Rusnak
All throughout high school, Lincoln-Way's James Augustine was Kevin Menard's whipping-boy. He wasn't even good enough to play second fiddle--that job belonged to Adam White--but things have changed.
Augustine always blended in with his team, playing his role and rarely doing more than what was asked of him.
---
"We broke the hoop when we were playing a tip-HORSE game and we lowered the rim and I dunked on it."
James Augustine
-On his bent-up rim in his driveway
---
"It was frustrating at times," said Augustine, a 6'10" power forward. "I wasn't in the spotlight and both Kevin [Menard] and Adam [White] got more of the spotlight then I did. It showed me the role that I had to play and I just did what I had to, to take the spotlight off of their shoulders."
However, with Menard and White graduated, Augustine is now standing up on his own and showing what was failed to see by many throughout his first three years at the New Lenox school.
Coming into high school, James was a modest 6'1" and spread his talents between three different sports. As a quarterback for the football team and a pitcher for the baseball squad, Augustine had yet to put all of his energy into a single sport.
This summer was the exception.
Realizing that while his talents were above par in both baseball and football, his physical attributes suited basketball much more so than the others did. Plus, it is the sport that he is most passionate about.
"I just like basketball a lot more than everything else," stated Augustine. "I could do it more without getting tired of it."
While he won't give up baseball for his senior year of high school, basketball is going to be his main focus.
"Just for fun," is the reason Augustine gives for continuing his first love of baseball. "I like it and it doesn't interfere with basketball."
Giving up training for football to pursue his dreams in basketball, James has flourished on the hardwood this summer. Making the all-star team at the Adidas ABCD Camp in Teaneck, New Jersey, Augustine showed that he could compete on a national level. However, spraining his ankle, he was unable to play in the game as he had to prepare for the forthcoming tournament of the Three Stripes event in New York.
Following the Three Stripes, Augustine went to Orlando, Florida with his AAU team where he had yet another spectacular showing against top national players such as Shelden Williams (Duke, UNC, Ill., NBA), Rashad McCants (Committed to North Carolina) and Mario Bogan (Committed to Florida).
"Going to nationals," said Augustine, "that really helped a lot. I had some big games there, playing against a bunch of top ten players."
A long and sleek defender, Augustine is quick enough off his feet to pose a serious shot blocking threat and is mobile enough to step outside and open up the middle with his ability to knock down the 3-point shot with regularity. While displaying an all-around game this summer, Augustine attributes his success to his background.
"I feel [playing behind such great players throughout my career] really helped me out more than anything," said Augustine, referring to the fact that he has been in the shadows all throughout high school and behind Eddy Curry last year in AAU. "If I would've been in the spotlight all the time, I think I just would've been just the scorer, but it helped me with different aspects of my game."
Augustine also points to his father, Dale, for helping him be the player that he is today. While Dale is most associated with football, as he is on Rob Glielmi's staff at Lincoln-Way, he knows enough about basketball to be of service to his son.
While this father-son tandem can't work on their games in their drive because of a miner setback, they don't have a problem finding a gym.
"We broke the hoop when we were playing a tip-HORSE game and we lowered the rim and I dunked on it," said Augustine, who has no need for lowering rims to flush, anymore. "[My dad] waking me up in the morning just so I could shoot, has helped so much. He played basketball in high school and is pretty much a football guy, but he knows what he's doing on the basketball court. At the Lincoln-Way Fieldhouse we would just go there and workout before football practice all throughout high school."
All of those shots in the gym get down to the root of the reason as to why the University of Illinois has offered Augustine a full-ride for his basketball services. A great student in the classroom with a 22 ACT and 3.0 GPA, Augustine fully accepted.
A large factor in Augustine's decision was based on his good friend and AAU teammate Dee Brown, who recently also committed to the Illini.
"When I went down to Champaign to visit the campus Dee was there in the basketball office," said Augustine. "Every time I talked to him, he would say Illinois this or Illinois that and would give me an Illinois hat or whatever and it just made me feel comfortable knowing that he would be there, too."
"I was so happy when he committed," said Brown, a returning all-state point guard from Proviso East. "We've got that bond together and I really wanted to play with him. It's fun hanging around him. He's got a lot of potential to be great. He can shoot, he can rebound, run the floor and block shots."
Currently, Augustine is directing his focus on his senior year of high school as he is out to prove that he is a player to reckon with and can live outside of the shadow.
"I'm going to come into this year and help my team as a leader," Augustine proclaimed. "I want to come out and show everybody that I am one of the state's best players."


Copyright © 1999-2000
High School Elite, All rights reserved.