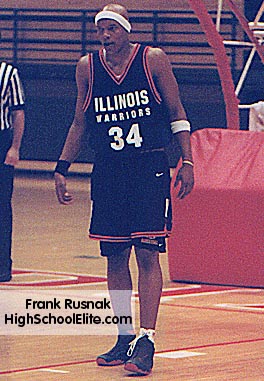 Cornett will be off to the Irish after his senior year

News & Notes
By Frank Rusnak
Helping to lead Homewood-Flossmoor Christian Academy to the Christian School state title and following that up this summer with an AAU National title with his Illinois Warriors team, success is not often far from Ricky Cornett. Averaging 21 points, 15 rebounds and 4 assists last season for Homewood Christian, the 6'7" Cornett brings to the table a very physical brand of ball, despite the fact that he has yet to enter a weight room. The chrome-doomed Cornett will bring his abilities to Notre Dame after his senior year.


Breese Mater-Dei's 6'7" rising senior Cole Grapperhaus has verbally committed to Southeast Missouri State University. A combo forward, Grapperhaus averaged 15 points, 8 rebounds and 4 blocks per game last season for the Knights. Playing for the St. Louis Eagles, Grapperhaus has helped his stock tremendously the past two summers at the Adidas ABCD Camp in Teaneck, New Jersey. A rangy player, Grapperhaus has the ability to take his man inside or away from the bucket and his skills will be well suited in the Ohio Valley Conference.


Helping lead his Whitney Young team to the prestigious Morris Shootout title this summer, 6'7" Marcus White is looking to his future. Orally committing to DePaul University, White looks to continue the Whitney Young tradition with the Blue Demons, following in current L. A. Clipper, Quentin Richardson's footsteps. Forced to sit out most of last season due to injury, White still came back to average 22 points and 13 rebounds.


AAU teammates on the Illinois Wolverines, Bloom Township's Joe Chapman and Rich South's Brandon Cole have both elected to choose their post high school destination prior to the start of their senior years. A 6'5" wingman, Chapman is headed to Marquette to follow in a long line of Illinois players who have, and currently are still, suited up for the Golden Eagles. A strong and extremely persistent player, Chapman has developed his outside shot to the point at which he is a serious force from the perimeter. Cole, a 6'6" power forward, is really coming out of the woodwork of late. Receiving AAU All-American mention at the AAU Nationals in Orlando, Florida this summer, Cole has opened up the eyes of Xavier University. Headed to the Musketeers, Cole's best days are certainly ahead of him.


Copyright © 1999-2000
High School Elite, All rights reserved.