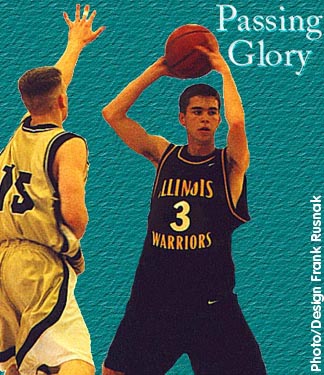 Following in the footsteps of his mom and dad,
James Romey has committed to the Broncos of Santa Clara.
Romey to Santa Clara
By Frank Rusnak
James Romey has had a glorious basketball career dating back to his preteen years. What has made all that possible is his dedication to hard work, countless hours spent in the gym and self-motivating persona. Oh yea, and his genes.
While scientists have discovered that there are such things as genes that can be passed on for things such as hair color, facial features or height, one that they have thought to be inexistent was that of a dominant basketball gene. Up until now.
---
"I think the best part about his game is he's very calm on the court and he never gets rattled."
Todd Townsend
-On former teammate, James Romey
---
In the Romey family, basketball runs deep.
When Jim Romey and his wife Blanche decided to have kids, it was the equivalent of two top racehorses getting hitched. Breeding a basketball pedigree, the Romey family eats, sleeps and, of course, plays basketball--all the time.
"Basketball conversation at the dinner table is not uncommon," said James, a 6'3" guard. "We used to always play family games in the backyard, but that gets pretty competitive so we've got to die down on that a little."
Growing up in California, Jim went from a promising high school career at Aragon High School to being named honorary captain of the Bay Area Team at Santa Clara University in 1973. Blanche also played on the basketball team while at Santa Clara and was the squad's MVP.
With all four of the Romey children dabbling in basketball, their second born, Katie--currently at Cornell University--is also receiving her fair share of accolades through basketball, leading the Big Red in scoring last year as a sophomore.
Now a teacher at Lincoln Junior High in Park Ridge, Jim is watching his oldest son follow in his footsteps as a Bronco.
"James is a great team player, and a skilled player that has worked very hard at his game," said Jim, who also coached his son throughout grade school. "I'm proud of the way he conducts himself on the court. From coaching him, I know what type of leadership he offers on the court. He does a lot of little things to help his team win. He's somebody that players look to for guidance to be in the right place at the right time. He makes sure that his teams have every opportunity to win."
Wanting to follow in his father's footsteps was a big reason James choose Santa Clara, but he says that the beautiful campus and 75-degree year round weather helped make his decision a little easier.
"The idea of a basketball legacy was what fueled my interest in SCU from the beginning," said James. "However, I made my decision after visiting and meeting the coaching staff and seeing what truly great people they are and realizing that I would be very fortunate to play for such good coaches."
Possessing an on-target jump shot, the ability to make his teammates better, a good passing ability and a certain toughness on the basketball court, James has a solid career ahead of him on the hardwood.
With the opportunity to play right away for James, he is being expected to fill both guard positions at Santa Clara. But, in time, he realizes that his future will be at the point guard position.
"They have said that the opportunity for me to play right always is there," James said. "However, I understand it's up to me to create my playing time. I need to get stronger and fine-tune my game all of this year to reach that goal. Santa Clara has always been my number one choice. Though I took a look at a few other schools, SCU was extremely persistent and really made me feel like I was going to be a great fit in their system. They have a good recruiting class ahead of me and their future looks bright. I am very confident that I am making a good decision for myself."
Also an avid fan of baseball as the Trevians probable number one starter on their pitching rotation, James has not ruled out the option of dabbling on the baseball diamond, as well, at SCU. Being given the option to prolong his baseball career, James will see how his senior year with the Trevians goes, then make a decision.
With a career in both basketball and baseball, images of 2000 New Trier graduate Matt Lottich come to mind. While Lottich was one of Illinois greatest athletes of all time, receiving all-state accolades in basketball, baseball and football, Romey takes advantage of his good-standing friendship with Lottich.
"Matt and I are great friends," James said. "Having someone like him to show me the way has been one of my most valuable assets in and out of sports. I don't know if any human could follow his footsteps and what he's done in high school sports, but it's his example that I try to follow. The way he practiced, balanced his time between sports and still having a good focus on your school work are all valuable skills I learned from him."
James must have taken particularly good notes on the close attention that the Stanford sophomore paid to his schoolwork. Going into his senior year, he is the owner of a very admirable 3.78 GPA and 29 ACT score.
Friends with Lottich as an eighth grader, James watched as his big buddy tore apart the Central Suburban South Conference as a rookie. Doing his best imitation, James stepped into the New Trier varsity as a freshman.
A sixth man for the Trevians, James fought for a spot in the starting lineup all year. Right when he started to make good headway, he broke his ankle right before Christmas. Coming back as a sophomore, James found himself with the starting spot that he so coveted. But it was an unusual circumstance that he was put in as a starter, as he was now being asked to run the point after having played shooting guard all his life.
With a revamped New Trier squad, including Morgan Park transfer Todd Townsend and 6'9" Ivan Pjevevic, a lot of pressure was put onto the young sophomore. Fortunately, for Trevian coach Rick Malnati, Romey doesn't know the meaning of pressure.
"I think the best part of his game is he's very calm on the court and he never gets rattled," said current Marquette Golden Eagle, Townsend. "James played a major role for us that season, but what really made me impressed was that he always played the shooting guard position, then he switched to the point and he handled himself really well. He's so fundamental as far as basketball all together. The only weakness that I've seen is that he is too passive."
Perhaps developing more of a passive approach since his move to the point guard spot, it was needed during his sophomore year. With Lottich, Townsend, Pjevevic and sharpshooter Staunton Peck, Romey filled the role the Trevians needed, and it paid dividends. With a trip to the Elite Eight to face a Darius Miles led East St. Louis team, Romey was forced to grow up and show maturity beyond his sophomore status.
"I don't think there is any substitute for having an experience like that as a player," James said. "Our team, with all its success, went through a lot of growing pains and it was especially tough because I had never played point guard before. It forced me to learn how to adjust and mature as a basketball player in a very unique way. I must say that going through that year and playing with those guys (Lottich, Todd, Ivan), definitely propelled me as a player. Playing on such a talented team can't help but make you a better player. It really taught me how to raise my game."
With the cupboard bare of players from that 2000 squad, Romey is the only one remaining, and this will call for even more growing pains and adjustments. Also, this year will see what James can do as the first option and the leader.
"If you glanced at one of my games what you'd see is a kid who can shoot and pass," said Romey. "What separates me from others is my knowledge of the game. I know how to play to my strengths, I know how to make my teammates better, I know how to control a game, and I know how to win. I guess that sounds cocky, but you need to be cocky, too.
"I know basketball better than I know anything else, and I know that what the scouts try to find in 'special players' probably won't be found in me. I don't have Dee [Brown's] first step and I don't have Andre [Iguodala's] vertical. But I also know that what I do have is special in it's own right and valuable to any team."
Looking to put a cherry on top of his sweet career before he starts another chapter at SCU, James looks back on what has been a great ride: "Basketball is fun for me. Basketball has given me great memories and great friends to last a lifetime. I remember playing Dee in the fifth grade AAU State Tournament to see who went to nationals. I remember in sixth grade playing this mammoth seventh grader who kept dunking on us. His name was Eddy [Curry]. I remember going downstate with the best group of guys, and most interesting, I've ever been a part of only to lose to some tall lanky guy named Darius. I have had fun and that's all I could ever ask for."


Copyright © 1999-2000
High School Elite, All rights reserved.