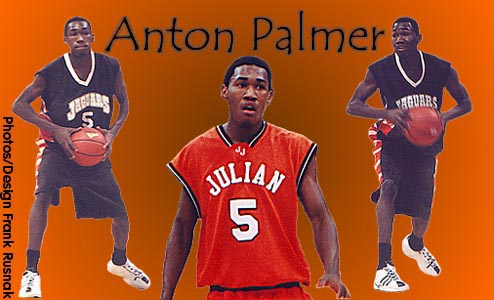 Palmer looks for big things with his future at Vincennes JUCO.

News & Notes
By Frank Rusnak
Almost headed to Winchendon Prep in Massachusetts, Julian's Anton Palmer was all set to follow former Jaguar teammate Demario Eddins who played at Winchendon the year before. While Demario had great success at the New England school and is now headed to Arkansas, Palmer backed out at the last minute, instead opting to take the junior college route with Vincennes of Indiana. Averaging 19 points and 10 rebounds last year for Julian, Anton is a swift lefty with a solid midrange jumper and active around the basket. "Anton's a great scorer inside-out," said Julian coach Loren Jackson. "He just needs to work on his defensive ability to be a big time player at the college level. He's matured an awful lot since being a freshman and I look for great things from him in the future."


Two former Austin High School students, Mike Edwards and John Jones, will be reunited this year at Pasco Hernando Junior College in Florida. While Edwards, a 6'2" scoring domino, graduated from Austin, Jones split time between Proviso East, Austin, Manley and The Academy of Scholastic Achievements where he finished at. In all of his moving around, the 6'5" Jones was ruled, midway through the school year at Manley, that he had used up all of his eligibility. That's when The Academy of Scholastic Achievements came in, before he headed to Lincoln (IL) Junior College for a short stint. Not happy with his stay at Lincoln, as he was playing out of position and didn't feel as he fit in, he will be attending Pasco Hernando this coming school year. Edwards, on the other hand, finished a very successful high school career last year with Austin as he culminated his senior season with eye-popping averages of 36 points, 8 rebounds, 6 assists and 4 steals a game. Edwards, a sly and creative slashing guard, had a career performance against Chicago Spalding last season when he recorded the first quintuple double in the school's history with 63 points, 13 rebounds, 11 assists, 10 steals and 10 blocked shots. "Michael's best basketball is ahead of him," said Edwards' coach at Austin and current Lane Tech head man, Frank Lollino. "Pasco is a great fit. They have a great teacher of the game in Bobby Bowman and I know Michael will represent the City of Chicago in a splendid fashion."


Keith Archie took his recruiting into his own hands last year. After not seeing the interest that he would have liked from colleges, Thornridge's 6'6" power forward--from the advice of his father--decided to send out highlight videos of himself to several colleges. Among those colleges that Keith peaked the interest of were two Mid-American Conference Schools, Central Michigan and Marshall. Although neither school traditionally recruits Illinois hard, they both felt positive about what they saw of Archie. Averaging 10 points and 8 rebounds for a 19-10 ball club, Archie was left with two solid programs to choose from as a walk-on. "At my size I thought the MAC would be a good fit for me to play well, especially at Marshall," said Keith. "It was between Marshall and Central Michigan. Marshall got the nod because I wanted to get a little further away from home."


Formerly a high school division teacher and coach at Leo High School in Chicago, Tom O'Malley didn't realize at the time that he was already making connections for his future job as head coach at the NAIA institution of St. Xavier University. With one of his students at the time being current Von Steuben head coach Vince Carter, O'Malley made a good bond, which helped in the recruitment of one of Carter's players, Phil Watson. Watson brings an explosive brand of ball at 6'3", with a sturdy frame and great potential. Averaging 17 points and 10 rebounds last year for a 22-5 conference winner, Watson looks to flourish at the nearby St. Xavier.


Originally committing to Michigan, former Marshall player Kelly Whitney is now set to take a different route to his pursuit of excellence. Failing to qualify academically with the appropriate test scores, Whitney will attend Creedmoor Christian Faith Center--located in North Carolina--next year as a fifth-year prep student. On top of that, Whitney, who averaged 20 points and 8 rebounds last year for Marshall, has already chosen Seton Hall as his subsequent destination after Creedmoor, as the Wolverines backed off when they found out he didn't qualify and his recruiting once again opened up.


Formerly with one of the state's most talented sophomore classes, Providence St. Mel is taking a large blow as they lose two of the state's up and coming players. 6'10" Kenneth George, who did not play on the varsity last year, was counted on to be a key component in the middle for St. Mel for the next few years. However, George has opted to take his game to fellow Chicago Area Class A power, Chicago Latin. The Knights 6'7" Shaun Pruitt has also decided to transfer, as he is headed to West Aurora. With his family originally from the suburbs and his father taking up a job in nearby Naperville, Shaun will join what is already a very formidable Blackhawk team. "I have liked [West Aurora's] style of play since before I was in high school," said Pruitt, "ever since downstate, when they beat 'The House (1999-00)."


A four year varsity player, Lockport's Alando Tucker is now headed to Bo Ryan's Wisconsin program after high school. The 6'5" rising senior averaged 21 points and 6 rebounds last season for the Porters and brings a very versatile game to the table. Able to penetrate with the ball, Tucker is a tremendous finisher with a sky-walking ability. His outside shot has developed serious range and consistency.


Originally from Thornton High School in Harvey, Illinois, Chris Alexander spent the last two years at Indian Hills (IA) Junior College. Having mild success with the Warriors, Alexander will take his game to Iowa State next year. At a legit 7'1" Alexander is a defensive force that is improving by leaps and bounds.


It was heavily rumored that Prosser's 6'5" Maurice Vaughn was going to South Florida and then Southern Illinois, but it now appears that Vaughn will be headed to Division III North Park University. With a 13-12 record last year, North Park welcomes Vaughn with open arms. Averaging 28 points and 8 rebounds last year, Vaughn is a spindly scorer that knows how to create his own shot opportunities.


Copyright © 1999-2000
High School Elite, All rights reserved.