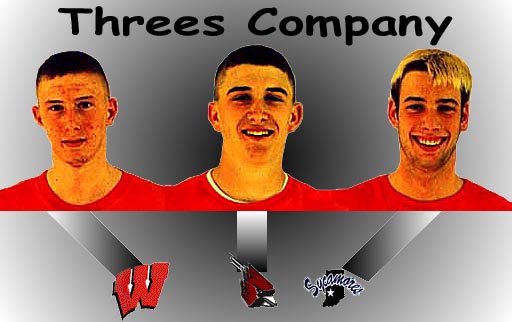 Mt. Zion's 3 D1 seniors (left to right) Plank-Wisconsin,
McCollum-Ball State & Sams-Indiana State
Braves Looking Good
This past Thursday Mt. Zion's Matt McCollum committed to Ball State University. McCollum's announcement made him the third player on his loaded high school team to commit to a division one program.
"There are no limits to how far we can go this year," says McCollum. With Indiana State-bound Jake Sams and Wisconsin-bound Neil Plank it is hard to put any limitations on a team with so much talent.
This season Mt. Zion will have the smallest population for any Class AA school in Illinois. Missing the cutoff by one student Mt. Zion will have to compete against much larger schools to get to state. "I think it will be more fun to show everyone that the little farm boys can play ball in Class AA," said the 6'7" Sams.
Returning all starters and coming off of a 24-3 season Mt. Zion looks to be prepared to battle for a state title. With McCollum, Sams and Plank all having played AAU this past summer for the first time on the Illinois Warriors, look for the battle tested Braves not to back down to anyone. "Playing with the Warriors was a very good experience. They take you to the best tournaments and play against the best competition. You can't get that around here and it was a great experience and well worth the time," said Sams.
---
"I think it will be more fun to show everyone that the little farm boys can play ball in class AA."
Mt. Zion's
Jake Sams
---
Unlike many teams where a me-first attitude has been adopted, Mt. Zion's main three are all backing each other whole-heartedly on and off the court. "We all respect each other and we are pulling for each other. We have confidence that we can get the job done. Off the court, we are all good friends and we all hang out together and are good buddies," commented Sams. With 6'6" sophomore Michael Sams, Jake's younger brother, playing with the older guys, it makes for some interesting pickup games. "Usually we'll shoot for teams with Michael and play two on two games," notes McCollum.
Playing with each other since the third grade the three of them have grown up together. As freshman all three of them played on the junior varsity squad. "We didn't play varsity because of a good team but we all started on JV," recalled Sams.
The first player to commit was the 6'4" Plank. Choosing the University of Wisconsin, Neil was high on the Badgers, even before they caught the attention of many by making the final four last year. Considering other schools Michigan State, Purdue and Marquette it was Wisconsin who was on Neil hard since last April. "I didn't see any reason in waiting. I really think I'll fit in well with their program up there. I really like their campus, city and coaches," said Plank. Averaging 14 points, 6 rebounds and 5 assists last season Neil is an elite player. With a solid frame and being a good athlete, Neil will make a formidable shooting guard in the Big Ten. However, there are a few things that he feels need some work before he arrives in Madison, Wisconsin. "I need to become a better perimeter shooter and strength wise become bigger." Neil has more then qualified academically receiving a 27 on his ACT and having a 4.0 GPA.
Topping Neil's GPA with a 4.2 on a 4.0 scale Jake Sams is more then just a standout in the classroom. A 6'7" power forward, Jake is a good-sized post player with the ability to hurt you from outside with his perimeter shooting. Averaging 13 points and 8 rebounds last year Jake is headed to Indiana State next year." I visited other schools and I just didn't see any point in waiting any longer, just because that was the best situation for me." Jake thoroughly loves the game and wants to obtain the highest goals imaginable. However, he has dreams off the hardwood as well. "I would like to major in Athletic Training or Pre-Med. I want to be a doctor," proudly exclaimed Jake.
Rounding out the threesome with another fine student-athlete, 6'3" Matt McCollum is the player whom had his stock rise the most this summer. Playing at the Nike Peach Jam in Augusta, Georgia this June, Matt's recruiting interest really escalated as he helped lead his Illinois Warriors team to the championship. After Georgia, Matt received offers from Utah, Tulane, Illinois State and Indiana Sate with strong interest from Michigan State and Missouri. However, wanting to commit early and falling in love with Head Coach Tim Buckley, McCollum knew that Ball State was the place for him. "I thought it was a really good situation. I really liked everything about it, especially Coach Buckley. My chances of playing in my freshman and definitely sophomore year look real good." Ironically Matt's first encounters with Tim Buckley were last year when, while Buckley was a Marquette assistant coach, and was recruiting Matt's teammate Neil for the Golden Eagles. However, Buckley left Marquette and came back to Ball State where he was once an assistant coach. "I called him to tell him I was coming to Ball State. He wasn't sure if he was going to get me because so many big schools started showing interest, but I just think that their program is really on the rise and he's a really good coach!" An all-out hustler and solid fundamentally Matt is a true warrior on the court. Averaging 15 points last season Matt feels that he was brought in to play the point guard position and needs to work on getting a little quicker for the next level and feels that his shooting could always be improved.
With a lot to accomplish before they all move on in their separate directions, look for the "little farm boys" to make Mt. Zion (population approx. 5,000) proud.
Copyright © 1999-2000
High School Elite, All rights reserved.