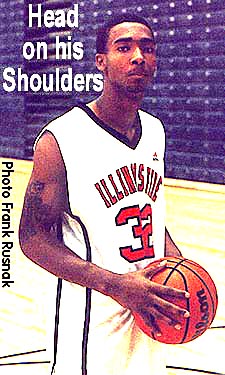 Head Commits to Illini
Knowing where he wants to go and confident about his decision Luther Head is on the road to the University of Illinois.
Last season as the team leader on his Chicago Manley high school team, the 6'3" Head put up eye-popping numbers to the tune of 25 points, 8 assists and 7 rebounds. The Oscar Robertson of Illinois, Luther garnered a total of 7 triple doubles this past season.
As his high school team didn't achieve much team success Luther's accolades were somewhat diminished.
---
The Oscar Robertson of Illinois, Luther garnered a total of 7 triple doubles this past season.
Luther Head
Manley High School
---
However, on the summer circuit this past year Luther proclaimed that he is a player to be reckoned with.
"I think I did well playing with players like Levar Seals and Sean Dockery and got more recognition playing with the players that I did," said the combo guard Head.
Continuing that success Luther led his Manly team with 23 points and 5 assists to the title of the loaded Mac Irvin Adidas Back-to-School Tournament at Loyola University this past weekend (9/10/00) overcoming a strong St. Louis Vashon team.
Already qualifying academically with a 21 on his ACT and a 2.7 GPA Luther is ready for the Illini where he committed at his in-home visit this past week.
"I was ready to commit before then but that [the in-home with the Illinois staff] was just what pushed me over the edge," said the combo guard Head.
Previously considering Marquette, Iowa State and Xavier, Luther knew that Illinois was the place for him three weeks ago when he took his unofficial visit to Champaign-Urbana and worked out with the team.
"I really liked the team, the campus, coaches and everything," said Head.
Recruited as a combo guard, Luther will fit well into Illinois' style of play with new Head Coach Bill Self who likes to play an up-tempo system.
"I like to get the team involved in the game so I think I will do well in the Big Ten. Plus, Coach Self said that he likes to run a lot and that's my game."
With the upcoming high school season, Luther knows where he wants to go and that includes a Red West conference title. And with a good head on his shoulders, look for him not to be easily discouraged in his path of excellence.
Copyright © 1999-2000
High School Elite, All rights reserved.