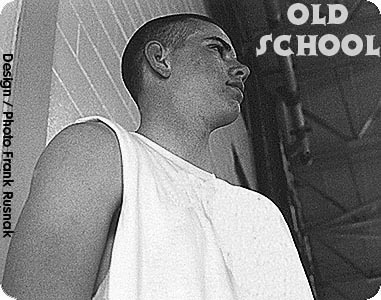 Boerjan Shows Flashes of Players Past
With an old school approach to the game and style of play, Rock Fall's Bryan Boerjan isn't out to impress anyone. Just to get the job done.
Focusing on basketball this year, the 6'8" Boerjan has opted to relinquish his pursuit of football success where he was the starting quarterback. Looking to take advantage of this valuable time to improve his shooting, conditioning and take care of his recruiting process, Bryan is happy with his decision.
"I wanted to commit myself to earning a scholarship and not sell myself short," Boerjan said.
Rock Falls High School, located in the Northwest part of Illinois, Bryan sees getting noticed by colleges as an obstacle that is tough to do, but feasible.
---
"I'm not out there trying to do the fancy stuff, just trying to get the job done, whatever has to be done to win."
Bryan Boerjan
Rock Falls H.S.
---
"I think it is difficult getting exposure in this area because not many D-1 basketball players have come out of this area and it's not a well known place," said Boerjan. Secondly, we're a Class A school, which many times isn't given it's due. When those two are put together, it makes it very difficult."
However, Bryan has found the perfect tool for overcoming the lack of publicity- AAU basketball.
Playing this summer on the Illinois Gold AAU team Bryan has propelled his recruiting dramatically.
On the Illinois Gold are such well-know names as Thornwood's Eddy Curry, Morgan Park's Najeeb Echols and Dunbar's Jason Straight. Combined with the attention that those players draw and Bryan's sound game, attention was sure to follow.
"My time spent with Illinois Gold was a great opportunity for myself. Being able to learn and play with those caliber players was very helpful. For me, I wasn't used to playing with those elite players. So from a confidence standpoint, it boosted it tremendously just by playing with them. Also, with those type of players comes the exposure I wouldn't normally get."
Displaying his skills all summer long he showed a solid mid-range shot that has to be respected. Also, Boerjan has a solid figure that he uses to muscle his way around in the paint, which best suits him for the power forward spot in college. A constant workhorse, he is a relentless defender that uses his great basketball smarts that he caries with him off the court as well.
Taking various honors courses Bryan is the proud owner of a 4.38 accumulative GPA on only a 4.0 scale. With those high marks, he is the number one student in his class of 139. Receiving a 22 on his first ACT attempt, he is retaking it again this week to hopefully better that mark.
With those high marks in the classroom, he is considering several top-notch academic schools in his listing of Colorado St., Davidson, Drake, Akron, Western Illinois, Wofford, North Dakota, Nebraska-Omaha and North Dakota State.
Leading his Rock Falls team to the Elite Eight of the Class A tournament, Boerjan averaged 15 points and 8.5 rebounds for a 25-5 team last year.
Looking to have his attention on the high school season ahead, Boerjan would like to sign early, stating that it would take a lot of pressure off of him and simply wants to get it over with.
Watch for Bryan in action on September 30 and October 1 at the High School Elite PEP Fall Classic at North Park University where he will take his old school approach with him.
"I'm not out there trying to do the fancy stuff, just trying to get the job done, doing whatever has to be done to win," uttered the 6'8" power forward reminiscent of players past. "I try to beat the next guy not by sheer athletic ability, but by outworking him."
Copyright © 1999-2000
High School Elite, All rights reserved.