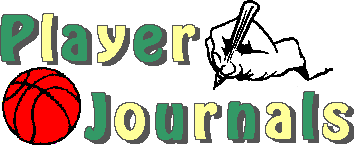 Frank's notes:
Yesterday, Jason Straight achieved a life-long dream.
Growing up in the projects of downtown Chicago, Straight hasn't exactly had anything handed to him on a silver platter. However, with hard work and determination, he is now off to a successful University of Wyoming program on a full athletic scholarship.
Located in Laramie, WY, the Cowboys are a team on the rise. Returning 6'8" junior center Ugo Udezue and a bevy of other talented big men the future looks nice for Jason.
Granted that Udezue doesn't leap for the NBA next year, as he is predicted by some to do, Jason will be a happy point guard with so much talent in the painted-area.
The last couple of weeks have been really hectic for me. I think I got more phone calls the last couple of weeks then I did my whole entire life. People were calling me from all around the country asking me so many different things, from what school I was going to, to what school Eddy and Najeeb was going to, to how I think my season was going to go this year. During the course of these two weeks I think at one point I turned my phone off because it was too hectic.

My grandmother was getting very upset with me and the people that would call. There would be times when I would hear her say things that I would never think she would say she would say because people be calling to late or to early. But it was all-good because I dealt with it like a man. I was straight up with everybody.

Also, I felt good because a couple of weeks ago I talked to a writer from ESPN The Magazine who did a report on Eddy [Curry]. The article was really cool.

Also, Najeeb and me kicked it last week and got a chance to talk about things that close friends talk about such as college, school, and life in general. When I'm around Eddy and Najeeb we try not to talk too much about basketball because everybody always trying to tell us what to do and how to do it. But over the years we learned how to deal with people like that and that's no problem now.

(Today November 8th) I woke up this morning at 6:00 early! Thinking about signing. This is what I dreamed about when I was little growing up in the Robert Taylor Project Homes, thinking about becoming a Division 1 basketball player and how that could change my life completely. Growing up in the Robert Taylor Home Projects it was hard for me to see all of those college basketball players on TV. A lot of people dream of becoming NBA players but I always thought about going to college first because I knew that would make my grandma (Addie Thompson) proud.

So I felt really good about today and what I'll be doing today; signing a letter of intent to attend the University of Wyoming next fall.

Until later,

J. Straight

Copyright © 1999-2000
High School Elite, All rights reserved.