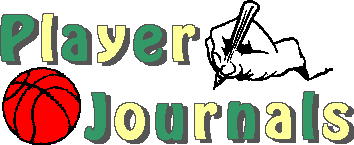 Frank's notes:
He already has a state title in his pocket and after a turbulent year last season he is looking to add one more to his collection. The leader of Hales Franciscan, Nate Minnoy is the Class A Player Journal writer this season for High School Elite. He may not be the tallest or the quickest, but there is not a tougher player to lock down offensively than this 6'3" senior.
As a sophomore, when he led his team to the Class A state title, Minnoy averaged 17 points and seven rebounds. He bumped that up this season to 19 and 12 while guiding the Spartans to a 20-6 finish that did not include the playoffs while they served a suspension that stemmed from recruiting violations.
What's up everybody!
My name is Nathaniel "Nate" Minnoy and I am a 6'3", 250-pound senior guard from Hales Franciscan High School on Chicago's Southside. I was really happy that Frank Rusnak asked me to do a player journal this year.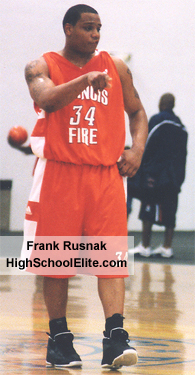 For those that don't know me, during my sophomore year, Hales celebrated the first Class A State Basketball Championship title to be won by a Chicago area school since 1985 and I was selected to the Class A First-Team All State by High School Elite. Last year, I was recognized as the Illinois Class A Player of the Year by the Sun Times and made First-Team Class A All State for the second year in a row. Unfortunately, our team was unable to compete for a repeat title this past year because of reports of alleged rules violations. I am happy though that Leo was able to bring back the title to Chicago. This year, I look forward to the opportunity to get a second Class A title.
This past summer has been very good for me. I play AAU basketball for the Illinois Fire, coached by the legendary Mac "Pops" Irvin. We played in many big-name tournaments against the top teams in the country --- the Chicago Mac Irvin Classic, the Houston Kingwood Classic, the DC Pro/AM, the Spiece Run-N-Slam and the Bob Gibbons Tournament of Champions in North Carolina to name a few. It was great playing against the top players in the country to show what I can do against them.
This year, I was also invited to attend Reebok's ABCD camp in Teaneck, NJ where I made the all-star team, finished fourth in scoring and was selected as one of the Top 10 players at the camp. It was great because the gym was packed with over 300 coaches from around the country.
Right now I'm going through the recruiting process. My list is incomplete, but here are some of the schools I am looking at: Purdue, Virginia Tech, Toledo, Missouri, Ohio State, Seton Hall, Indiana, Miami, George Washington and Ohio – not in any particular order. The school I select will have a great academic reputation with a solid tutorial program to help me get my degree. It will also have a great coaching staff and team with the ability to possibly assist me to the next level – God willing.
Overall, this summer was big for me and I would have to say that I didn't play half bad. Throughout the tournaments my team played in, I got to play against some of the top players in the country. After ABCD Camp and the little tournament we had in New Jersey, my team, the Illinois Fire, and I went to Las Vegas and California for our two last tournaments. We finished in the elite eight in both of these tournaments. I believe that I played decent and came through when my team needed me to. I also worked on two of my weaknesses, ball-handling and foot speed, by bringing the ball up the court and trying to defend the other great players there. It was good to see that the things that I have been working on (namely shooting the three), helped me and my team out. I really enjoyed this summers' experiences.
That's all I have for now. I'm looking forward to a great senior year and I'll update you later.
Peace,
Nate


Copyright © 1999-2000
High School Elite, All rights reserved.