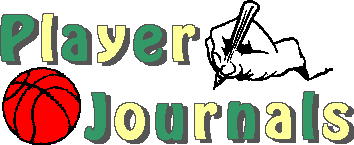 Frank's notes:
The place was Proviso West. The event being the 17-under AAU state tournament in the summer of 2003. It was an event that left a lasting impression in the mind of Hales Franciscan star forward Nate Minnoy Ė but for a bad reason.

In that event he suffered an injury that has bothered him ever since. Just this past month he had corrective surgery from his torn lateral meniscus cartilage in his left knee. Nate is now undergoing rehabilitation, but will be ready at full strength when the high school season tips off.
I haven't had a chance to chat in a while because I recently underwent knee surgery on my left knee. I wasn't able to do much afterwards with the physical therapy and all.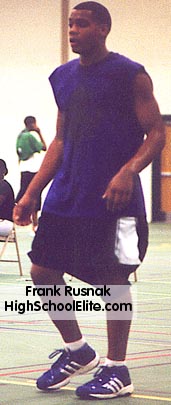 I do a lot of exercises with the treadmill and the bike. I get in the pool occasionally and walk around and do some balancing exercises. Those are the hardest because I have to balance my wait on my left knee. I have to balance myself on a half of a tennis ball and hop on that knee also. But now I'm back.
While at home resting and doing my knee exercises I got some bad news from coach London. First off, Lil' Jerome Randle hurt himself and was sidelined from the Top 50 Junior Showcase on Sunday. Jerome took a visit to Michigan State a couple weeks ago and in an open gym with the guys he suffered a third-degree ankle sprain. At first he had a boot and was on crutches, but now heís walking.
Secondly, Hales Franciscan wonít have the opportunity to play Hillcrest. I have some long-times friends that play for them and they said they would've loved to play us. And we would love to play them, but we just can't. What happened was they wanted us to play them in their shootout but with all the rumors of me transferring they decided to play some one else. It would be two of the top teams in the state, two potential pre-season number ones and the outcome is unpredictable. Those are the type of games people love to see regardless of class. I really hope we get that game.
Anyway Jerome will be fine and Iím about three weeks away from being 100 percent. I canít wait to get back. Itís hard sitting out for whatever the reason is.
I went to Top 50 Junior Showcase to watch and it was great. I judged the dunk contest, saw some great games, individual performances and for the second year in a row somebody from Hales brought some hardware home. This year it was guard Darren " D" McKenzie with the assist award. But I have to give Chris Singletary a shout-out. He really showed off his all around game, which is why, in my opinion, he is the top player in the class of "06".

So, Iíll get at y'all later.
Peace.
Nate


Copyright © 1999-2000
High School Elite, All rights reserved.