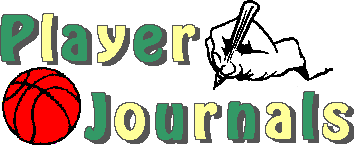 Editor Frank's note:
Todd Townsend has lived a very rough and at times difficult life. The one constant in Todd's life has been basketball. However, in November the IHSA tried to take that away from Todd. They were successful. Todd was ruled ineligible for his senior year of high school basketball. The high school career of Todd Townsend was thought to have come to an end before it ever really got rolling.
In December Todd's legal guardians, Joe and Kathy Schwaba, took the IHSA to court saying that Todd is well in his rights to play basketball at New Trier High School. They won their plea and today Todd is happy as can be at suburban New Trier High School, as he is starring for their basketball team and doing great academically getting 1A, 2B's and 2C's at the end of the semester marking period.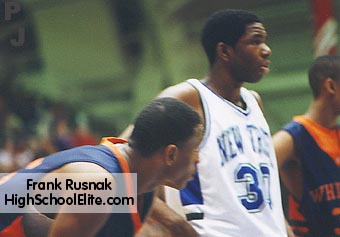 Hi, my name is Todd Townsend. I'm a 6'7" senior at New Trier High School. First off I would like to say thank High School Elite for allowing me to do this.
Finally! Finally! I'm glad this whole process with the court is over and this whole ordeal has taken a lot out of me. It has frustrated me in lot of ways, but through all of it I have became a stronger person. There have been some ups and downs in the school year but I had teachers, people in the community and my teammates help me get through all of this stuff.
I miss Morgan Park a lot. A lot of people think that I transferred because I disagreed with the M.P. Coach but I still talk to the Coach (Asst.) at least once a week. As far as basketball is concerned people think that I transferred because I got benched a lot but I burned that on myself because I missed school a lot. I still love Morgan Park and my friends there.
My first game (The Evanston game), I felt real good/nervous. I couldn't sleep the whole night and neither could Ivan (Ivan Pjevcevic is a transfer student like Todd. The 6'10" Pjevcevic is originally from Yugoslavia). All through school Ivan and I talked about how our first game would be. But when I first got in the game I felt real good but at the end I was real disappointed that we lost. It was hard for us though because Ivan and I still didn't have the chemistry with the other players on the team that we would've liked.
Then we had 10 days off before our next game, we really needed that break in games to gain chemistry, which was the Proviso West Tourney. At Proviso I made the All-Proviso West Team playing against Larkin, Westinghouse, and Homewood-Flossmoor. Our first couple of games in the tournament our chemistry improved but we still knew it could get better.
Then after Proviso, conference play started to get rolling. I really didn't feel like I was on the team at first because I could feel my court date right around the corner. We breezed through our conference schedule but we had a tough non-conference schedule (Ex. Peoria Central, WY, Farragut and Proviso East).
Then, on Wednesday (2-23-00) I found out that I was going to be eligible. The AD came and told me and some of my teammates that I was eligible, I was so relieved. I had to deal with a lot of media after that but I was just so glad that all of the transfer stuff was over with.
Then on our Friday game against Waukegan, I really started, for the first time, to feel like I was really a part of the team. Knowing that this wasn't going to be my potential last game.
Now, we open up the playoffs on Tuesday against Barrington and we are really focused. Since the playoffs are starting it's been like a whole new season in practice for us. I can't wait for March Madness to start!
Peace for now,
Todd Townsend
Copyright © 1999-2000
High School Elite, All rights reserved.