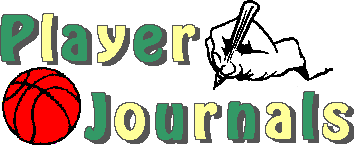 Editor Frank's note:
On Friday the Chicago Sun-Times released it's All-Area selections and Todd Townsend's teammate and best friend, Stanford bound, 3-sport star Matt Lottich (23pts, 7reb, 5asts) was honored as one of the 20 players as Todd made Honorable Mention.
Rolling past the first two rounds of playoffs, New Trier keeps their focus of a state championship in the front of their minds. On course for a probable match-up with a tough Schaumburg team to advance downstate, Todd Townsend and his New Trier Trevians are ready for anything.
March Madness has began. Last Tuesday we opened up against Barrington. We came out real shaky, everyone was nervous but at the end we ran away with the game winning by 35 points. This game was weird because it was our first Tuesday game this season. So it was kind of odd having to get ready for school the next day with all that was on my mind. It's real hard staying focused during the playoffs, trying to keep in touch with my friends and girls and staying on top of schoolwork.
In school on Wednesday my Spanish teacher told me that my grade had dropped down to a B. So I studied real hard that night and Thursday and I knew that after I took the test I had aced it. (Todd received a 94%)
Later in school on Friday a kid from school showed me the Sun-Times (Chicago Newspaper) and told me I didn't make the all-area. I was really shocked. At first I thought maybe it was because we already had someone from the team, Matt (Lottich) but Westinghouse had two (Cedrick Banks and Martell Bailey). It really motivated me to play harder that night for the game against Hersey.
This was our last home game ever. I took it personally, but it was a really a very important game for Matt (Lottich), Tom Duda and the other seniors because they have been playing there for all four of their years.
I was nervous to start the game off but then I got into the flow. At the beginning they jumped on us early and I got into quick foul trouble.
At half time coach told us that we don't want to leave high school knowing that we had lost our last game, losing on our home court. That really got us going and we came out on a run. Our defense stepped up big time. We ended up winning and I ended up with 16 points and 14 rebounds. Matt and I came off the floor together and got a big applause from the crowd. After the game we cut down the net for winning the regional championship. I had only seen that on TV, it was really cool!
Then after the game we did our usual, eating cheeseburgers over at Homers (Restaurant). Then I went home to rest for the big dance on Saturday.
I slept all day then got up and ready for the dance and had fun at the dance but had to be back before the 3:00 AM curfew set for all of us ball players.
We play Hoffman Estates on Tuesday and coach has been getting us prepared for them with film and telling us their plays and stuff.
I get calls every week from colleges but I think that I probably won't decide on a college until over the summer or during prep school next year.
Later,
Todd Townsend #30
HOME
Copyright © 1999-2000
High School Elite, All rights reserved.