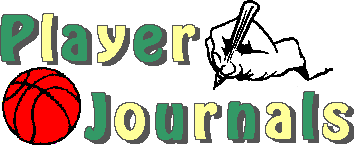 Editor Frank's note:
Todd Townsend and his New Trier Trevians have had a very successful year and should be proud of their prosperous season.
On Friday (3/21) Todd and his New Trier team advanced on and competed in the Illinois state tournament against a very strong East St. Louis team that consisted of such superstars as 6'9" All-American Darius Miles and 6'3" high-scoring Phillip Gilbert. Todd definitely looked forward to the challenge of playing against and guarding his longtime teammate and friend Darius Miles. Todd, Darius and Todd's teammate and All-Stator Matt Lottich have been friends since their freshmen years, playing with the Illinois Warriors AAU summer team.
Todd is a great defensive player and does all the little things to help his team win. However, Todd and his team's play were of no avail against the stronger ESL team. Todd finished with 15 points, 12 rebounds and a number of highlights including a resounding dunk, where Todd did a double-pump slam over his buddy Darius that was on every highlight film imaginable.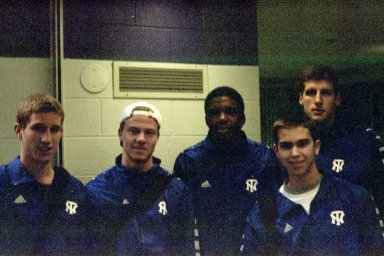 New Trier starting 5 (left to right)Staunton Peck, Matt Lottich,
Todd Townsend, James Romey, Ivan Pjevevic.
It's been a while since I wrote my last Player Journal and a lot has happened since then so here it goes. We had a big win in the Super Sectionals over (Gernee) Warren at Northwestern (Welsh Ryan Arena). I played a good game, finished with 8 points 8 blocks and 11 rebounds.
They played us real good in the first half, they were up ten at the half. Then in the second half our defense stepped it up and I hit some clutch free throws down the stretch to tie the game and then take the lead. We felt like Northwestern was our home gym and we knew we couldn't lose there (New Trier hasn't lost a game at their high school or at Northwestern in three years).
Our bench came on and gave us a big lift because a lot of our players got into foul trouble (Staunton Peck and Ivan Pjevevic). At the last few possessions of the game I came down and got three blocks on three possessions right in a row, but it was our bench that helped put the game away for us. After the game our fans MOBBED us. It was a great feeling knowing that we were going down state. But we knew our work wasn't done yet.
All the time at Morgan Park (this is Todd's first year at New Trier, he transferred from Morgan Park) I would wander if we could ever make it down state and if we would be able to get past Westinghouse.
After the game we all went straight home and slept because we weren't going to party or anything because we knew we had to play East St. (Louis). All that was on my mind was that we're going to play Darius, we're going to play Darius. I've played with him (Darius Miles, East St. Louis' 6'9" All-American) since we were freshman (on Larry Butler's Illinois Warriors AAU summer team) but I never played against him. There was a lot of talk around school and everyone was psyched that we were playing in the state finals. And it was kind of funny because everyone was saying, 'watch out for Darius,' but no one had ever even seen a highlight of him and I played with him.
On Thursday we had to be at school at 7:30 for a parent meeting and a school Pep Rally. Then we boarded the bus and my girlfriend and best friend at New Trier wished me good luck down state. It was a long ride there but everyone was so hyper and we video taped everything, (Matt) Lottich, (James) Romey and (Staunton) Peck all had cameras, and no one really fell asleep. We would play tricks on them if they did.
When we got to the hotel, we dropped our stuff off then went across the street the Civic Center (home of the Illinois State Finals in Peoria) for interviews and a shoot-around. Then we went to the old Bradley (University) gym for a practice. After practice Lottich and me went to the hotel and we hooked up with Darius (all the teams stayed in the same hotel) and we just hung out. We didn't really talk about the game that much, just talked about the season and what we've been though. Just laid back. That night there was a banquet where all the teams and coaches were at. The guest speaker talked about and said, 'whatever happens downstate always carry the memories with you.' It touched on something our coach is always talking about, 'No matter what happens always cherish your best memories.'
After the banquet I just went back to the hotel and went to sleep because I had to get some rest. I was just a little bit to hyper for the game and didn't want be worn out for it (New Trier had the early game of the day). I woke up the next morning ready to play. We all went down and ate breakfast with some of the other teams down in the lobby. Then we had a team meeting and went over our game plans and coach was just got us prepared for the game. I felt that I was really ready for this game and I was ready for the opportunity to guard Darius.
I felt that we were a lot better then what we showed in the game. They just hit a lot of shots and we just couldn't hit the big shots. At halftime coach said that it wasn't over yet, because we were only down by 10 and I don't think anyone thought it was done. We just couldn't hit a shot, we shot 18-70 for the whole game and I don't' think that we ever shot that bad all year. We got a lot of good looks at the basket but we just couldn't put it in. It was very emotional in the locker room after the game. We had to do a press conference, me and Matt just hung in there.
Then it hit us when we saw ESL playing that next day on the way home on the bus. We were angry that we didn't achieve better and everyone would've loved to go a little farther but there wasn't nothing that we could do about it. It was a great experience for the whole team and me.
Now I'm just looking at Prep schools and concentrating on school. I've been looking at a school up in New Hampshire and a few others but still not sure on that yet. There is a chance that I might play in the Wendy's Classic (a post season all-star game pitting New York's best versus Chicago's best) but only if it doesn't interfere with my eligibility for next year and prep school.
HOME
Copyright © 1999-2000
High School Elite, All rights reserved.