City-Suburban Showdown
Young Continues to Struggle
Todd Townsend(white) guards Najeeb Echols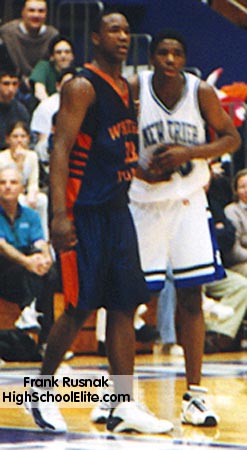 The Whitney Young dolphins fell to 10-8 Saturday night as they lost 61-53 to New Trier in front of 4,828 at Northwestern's Weslh Ryan Arena at the 5th annual City-Suburban Showdown.
New Trier jumped out to an early lead with a 15-5 advantage at the end of the first quarter. Young then countered with a solid quarter of their own, finishing the fist half at 25-22 New Trier.
In the end though it was just too much New Trier. There was no stopping the Trevians 6'3" Stanford signee, Matt Lottich. Lottich netted 20 points to lead all scorers. Other players who performed well for the Trevians were New Trier's 6'10" Yugoslavian native center, Ivan Pjevcevic. Ivan is really starting to look more comfortable with his new teammates at New Trier as he finished with 15 points and 7 boards.
One player for New Trier that didn't really light up the score board but really impressed was 6'7" Morgan Park transfer, Todd Townsend. Todd finished with a not-so-impressive 7 points but Todd did the little things that helped New Trier leave with a W. "I'm unselfish, I just want to get my teammates involved," said Townsend. Todd who several times this year has been close to recording triple-doubles, finished with 7 rebounds, 4 assists and 4 blocked shots. Unfortunately, this could possibly have been Todd's last hur-aw as he is currently engaged in legal battles stemming from his transfer from Chicago Morgan Park.
For Whitney Young 6'7" forward, Najeeb Echols finished with 18 points and 10 rebounds. Najeeb has been very solid this year as he always gets his fair share in the scorer's book but he needs to start creating more for his teammates.

'House players (from left) Banks, Wiggins, Bailey & Trammel
DGN Impresses in Loss
Yes, Downers Grove North eventually lost the game to Westinghouse but along the way they impressed many. Among those that the Trojans impressed were none other then Westinghouse Head Coach, Chris Head.
"If they are not rated they should be," stated Head. With a performance like Saturday night DGN will certainly make their way into many people's rankings. "I think they are one of the best teams in the state," continued Head. Coach Head even went so far as to say that DGN was the second best team that they played this year next to Virginia's Oak Hill Academy. That is a very strong statement when you look at the source, as Westinghouse plays perhaps the toughest schedule in all of Illinois facing top national and in state powers on a weekly basis.
The game started off like many Westinghouse games do. The 'House jumped out to a 11-0 start applying their traditional suffocating full-court press. The Trojans refused to back down though, as they caught fire from the outside. DGN point guard, Pat Cunningham kept his team in the game in the early, finishing with 11 first half points on perfect shooting from beyond the arc (3 for 3).
In the second half the game continued to go back and forth as there were 8 lead changes.
The final minutes of the fourth quarter was when the real action started. With the score 57-53 Westinghouse up, 6'2" Sr. guard Drew Carstens (14 pts, 6 rbs, 5 asts) nailed a 3-pointer to give DGN the lead. Then, Downers applied a little pressure of their own. Denying Martell Bailey (15 pts, 9 asts, 5 stls) an open man for the in-bounds pass, causing a 5-second call. Downers' ball with 20 seconds left in regulation. They hit 6'6" swingman, Joe Riner (15 pts, 16 rbs) for a contested jumper at the free-throw line, giving North the lead. On the other end 6'2" senior Craig Franklin (14 pts) made one of two free-throws to tie the game at 58 and eventually send the game into it's first overtime.
In the first overtime, Westinghouse decided to hold the ball for most of the 4 minutes in the extra session to take the last shot. Martell Bailey eventually missed a runner in the lane to send the game into another overtime.
It was all 'House in the second overtime as Bailey started it off with two quick free throws. Then, Johnny Tate hit a short jumper and from there on it was all academic, as Westinghouse went on with a 69-64 well-fought victory.
"They are by far the best team we've played this season," said Downers star Drew Carstens who almost lead his team to the unthinkable win. Westinghouse's Cedrick Banks led all scorers with 19 points.
Copyright © 1999-2000
High School Elite, All rights reserved.